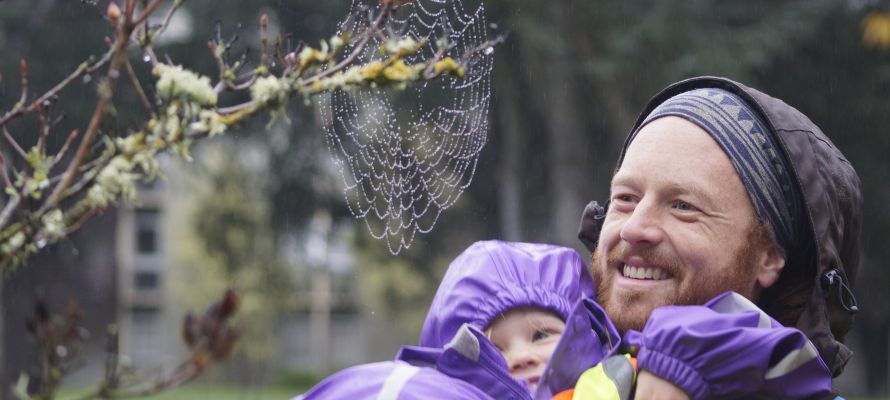 Walking in a winter wonderland.
A season change always means there's new things to explore outdoors. In winter, just wrap up warm with a snuggly coat, warm hat and gloves. It's time for the fun of putting on your gumboots and jumping in puddles or catching raindrops on your tongue.

FIND OUT WHY WE'RE JUST BETTER BECAUSE...

Our outside world transforms depending on what's happening with the weather or the seasons. Kidsfirst Kindergartens Ilam have discovered there's lots to see and do on a winter walk to the nearby Ilam Homestead and gardens.

The unique heritage building, on Ilam Road opposite the University of Canterbury, is surrounded by sweeping lawns and beautiful gardens that are fun for all ages to explore, in any season.

Ilam Homestead and gardens is a short walk from the kindergarten.

"Every few weeks we try to get out as a group on a walk here," says Head Teacher, Christine Putt. "The children love it, we talk about the different things we can see in nature, observe the seasonal changes and stop to draw pictures."

Pathways meander through pockets of lush native ferns. There's wooden benches to sit on and a small bridge arches the stream where resident ducks flap or float by the historic water wheel.

Native ferns and tall trees line the pathways, with an arched bridge to cross the stream.

New discoveries to be made on a winter garden walk.

Hold hands and stretch your arms out wide to make a big circle around the tree.

During the spring and summer months the Ilam Homestead gardens overflow with vibrant rhododendrons, azaleas, blossoms and other beautiful flowers. Winter here is no less picturesque though.

The last remaining yellow autumn leaves scatter the ground. Gently gnarled tree branches stretch skyward…can you spot an empty bird's nest perched high up there?

Clusters of little mushrooms stand upright from the tree roots, there's a bright daisy or two still bravely flowering and, if you're lucky, you may just see a spiderweb bejeweled with raindrops.

"Teachers and our parent and whānau helpers love to share this time and experience with tamariki," says Christine. "It's such a great way to get out and about together and to blow away some of those cooped up wintry weather cobwebs!"

If you haven't checked out the beautiful Ilam Homestead and gardens before, why not take the kids or meet friends there on a weekend soon or during the next school holidays?

Spend the morning or afternoon taking it all in with a pleasant stroll (while the kids let off some steam). Or pack a picnic and make a whole day of it. There's plenty of parking available or, if travelling by bus, jump off at the University of Canterbury bus stop.

.

Kidsfirst Kindergartens
Head Office, 43 Birmingham Drive, Middleton, Christchurch 8024
+64 3 338 1303email: questions@kidsfirst.org.nz
Postal Details: Kidsfirst Kindergartens, PO Box 8089, Christchurch 8440
KIDSFIRST KINDERGARTENS ARE A NOT FOR PROFIT ASSOCIATION WITH OVER 70 KINDERGARTENS AND EARLY LEARNING CENTRES COVERING CHRISTCHURCH, CANTERBURY, CENTRAL OTAGO, BANKS PENINSULA AND THE WEST COAST - AND HAS DONE SO FOR OVER 100 YEARS
- AS THE PLACE LOCAL KIDS COME TO LEARN, PLAY AND HAVE FUN.