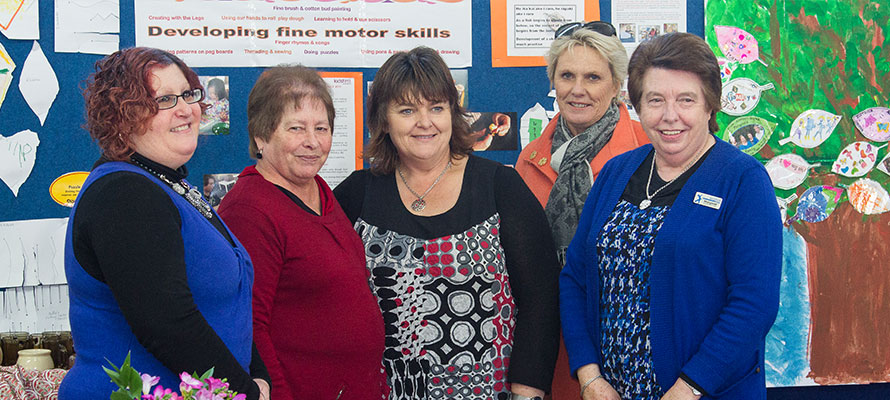 | | | |
| --- | --- | --- |
| | | In July this year, Margaret McCormick celebrated a wonderful 25 years working at Kidsfirst Hillmorton. |
OUR TOP STORIES:

Above; Kidsfirst Chief Executive Sherryll Wilson and Margaret McCormick

Kidsfirst takes great pride in having 100% trained and registered teachers. For over 100 years we have been providing the best in teaching standards through our professional, passionate and enthusiastic teachers.

This kind of commitment to quality shows in the calibre of our teachers and we are grateful for all of the incredible work they do everyday. Teachers like Margaret McCormick from Kidfirst Hillmorton who, for 25 years, has provided continuity and continued to strive for excellence in early childhood education.

"Of course, there have been a lot of changes in the last 25 years but I still feel just as passionate about teaching and learning, if not more so, than when I first started here," says Margaret.

The whānau focus of Kidsfirst Hillmorton is what Margaret loves about her community. A sense of belonging and fostering positive relationships are what kindergarten is all about.

Margaret's 25 years were celebrated with a special luncheon. Those who came along ranged from the newest member of Kidsfirst Hillmorton's whānau, a six week old sibling, to grandparents who have been associated with the kindergarten for over 18 years as seven of their grandchildren attended Kidsfirst Hillmorton.

As Margaret reflects on what has been, she says that it's the children and families in the Hillmorton community who inspire her.

"Children are just so amazing and teach us so much. I'm fortunate also to have worked with some fantastic teachers over the years who have inspired me. I hope that I, in my turn, may have been able to inspire a few others through my work here at Hillmorton."

Inspiring others and being inspired - isn't that what the Kidsfirst kindergarten philosophy is all about.

QUICK READ

In her 25 years as a teacher at Kidsfirst Hillmorton, Margaret has seen a lot of changes to early childhood education. She feels just as passionate about it now as when she first started...
KIDSFIRST KINDERGARTENS ARE A NOT FOR PROFIT ASSOCIATION THAT HAS DEVELOPED AND MAINTAINED KINDERGARTENS IN CHRISTCHURCH, CANTERBURY AND ON THE WEST COAST FOR OVER 100 YEARS - AS THE PLACE LOCAL KIDS COME TO LEARN, PLAY AND HAVE FUN.