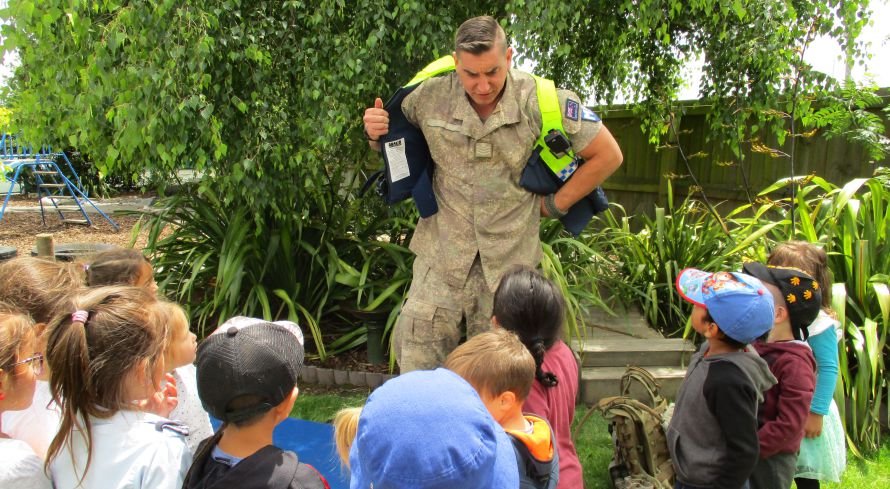 | | | |
| --- | --- | --- |
| | Welcoming visitors to kindergarten is one of the ways we celebrate our connections with the wider community | |
We especially welcome input from our kindergarten whānau and families, with so much to be learned from involving lots of different people along our way.

As a surprise for a fifth birthday at kindergarten, a Kidsfirst Hei Hei kindy mum (who also works at Burnham Military Camp) arranged a special visit from army military police, Staff Sergeant, Logan Gionelly.

Tamariki were delighted with his visit! They were intrigued as he showed them his army and military police vests, and emptied the many pockets to reveal some of the equipment carried on the job, such as a baton and hand cuffs.

A commando style army tent was set up on the lawn for tamariki to play in.

"The highlight for the children was climbing into his military police car, and taking turns to press the different buttons," says teacher, Ngam Brown. "Some even tried out the speaker phone."

"We love our community connections at kindergarten," says Ngam. "And having Sergeant Logan visit was a great way to reinforce our practice of manaakitanga (showing respect, kindness and care for others)."

What a great opportunity to engage in new learning and expand our childrens' experiences at kindergarten.
Read more stories...

Nau mai, Tauti mai, Haere mai
Information including that about fees, services and promotional activities were correct at the date of publication of news stories but may since have changed. Please check with us to ensure information is current.