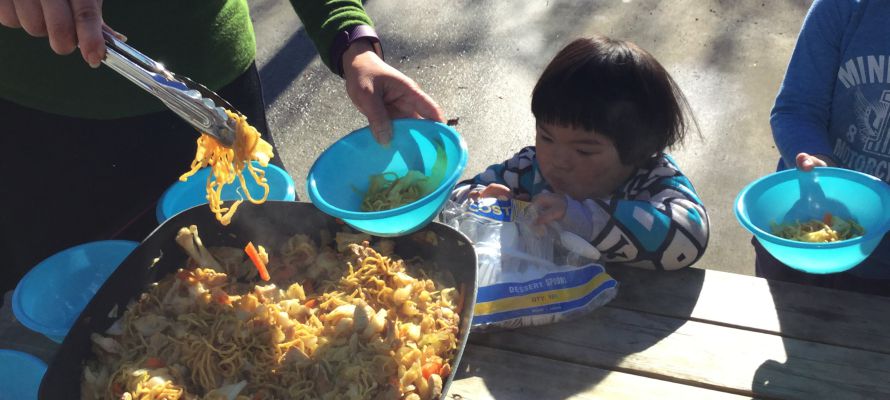 Fun and learning cooking together
Cooking together at kindergarten and home brings lots of opportunities for positive new learning and fun, as well as encouraging healthy eating.

FIND OUT WHY WE'RE JUST BETTER BECAUSE...

The children at Kidsfirst Hei Hei got a taste of new things when they were encouraged to close their eyes and use their sense of smell during a cooking session, "It has a sizzling sound and I can smell onion, mmm just like a sausage sizzle," was the comment of the day.

"Children are always keen to help with cooking and it helps to develop so many emergent learning skills," says teacher, Ngam Brown.

"Reading through the recipe promotes literacy and concentration while following directions encourages good listening skills. It stimulates children's thinking, curiosity, problem solving skills and different ways to make predictions and observations."

Children also hone their maths skills through making measurements and counting the steps of the recipe.

"Children learn to identify the names of vegetables, get to taste both raw and cooked vegetables which all helps to encourage an adventurous palate," says Ngam.

She also describes how, "These experiences boost children's confidence, as they are developing an awareness of what they can do. Using real knives to cut helps to enhance their fine muscle control and eye-hand coordination."

"They gain a sense of accomplishment and pride in their skills and abilities. They also learn about health, hygiene and safety. Children understood exactly what they were able to do, what was expected of them and were also praised for their efforts."

.

Kidsfirst Kindergartens
Head Office, 43 Birmingham Drive, Middleton, Christchurch 8024
+64 3 338 1303email: questions@kidsfirst.org.nz
Postal Details: Kidsfirst Kindergartens, PO Box 8089, Christchurch 8440
KIDSFIRST KINDERGARTENS ARE A NOT FOR PROFIT ASSOCIATION WITH OVER 70 KINDERGARTENS AND EARLY LEARNING CENTRES COVERING CHRISTCHURCH, CANTERBURY, CENTRAL OTAGO, BANKS PENINSULA AND THE WEST COAST - AND HAS DONE SO FOR OVER 100 YEARS
- AS THE PLACE LOCAL KIDS COME TO LEARN, PLAY AND HAVE FUN.