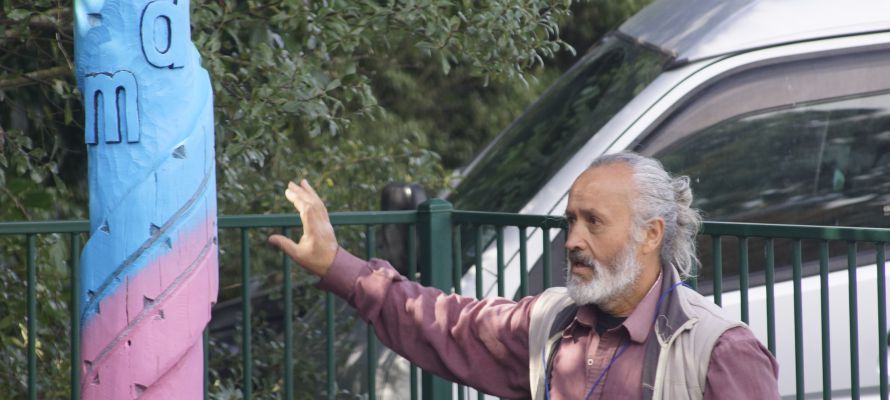 New carved taonga / treasure.
We embrace our unique bicultural heritage at kindergarten. From the use of te reo, to celebrating Matariki, to exploring Māori myths and legends it's proudly woven into everything we do.

FIND OUT WHY WE'RE JUST BETTER BECAUSE...

Kidsfirst Hawthornden held a very special ceremony to welcome their new carved taonga to kindergarten – a beautiful signpost that extends tall towards the sky.

"We wanted our carving to represent the significance of our area to Māori before European settlement," says head teacher, Catherine Gerslov-Wright.

HEAD TEACHER, CATHERINE GERSLOV-WRIGHT WELCOMES EVERYONE.

Avonhead was a well-known sign post area. Tall cabbage trees/te kōuka (such as the ones outside Burnside High School) acted as guides for Māori as they travelled from food gathering coastal areas on the East Coast to destinations on the West Coast.

LOCAL CARVER, TAIROA FLANAGAN SHARES THE LEGEND OF TĀWHIRIMĀTEA.

At the ceremony, local carver, Tairoa Flanagan captivated tamariki, kaiako and whānau with an expressive delivery of the story of Māori Atua (Gods) Tinirau and Tutunui (who teach us to look after our abundance) and Tāwhirimātea (the Māori god of weather).

"The swirling patterns represent the movement of wind and weather," says Catherine. "And the bright colours of the aniwaniwa/rainbow let everyone know that our kindergarten is a place for our treasured tamariki."

.

Kidsfirst Kindergartens
Head Office, 43 Birmingham Drive, Middleton, Christchurch 8024
+64 3 338 1303email: questions@kidsfirst.org.nz
Postal Details: Kidsfirst Kindergartens, PO Box 8089, Christchurch 8440
KIDSFIRST KINDERGARTENS ARE A NOT FOR PROFIT ASSOCIATION WITH OVER 70 KINDERGARTENS AND EARLY LEARNING CENTRES COVERING CHRISTCHURCH, CANTERBURY, CENTRAL OTAGO, BANKS PENINSULA AND THE WEST COAST - AND HAS DONE SO FOR OVER 100 YEARS
- AS THE PLACE LOCAL KIDS COME TO LEARN, PLAY AND HAVE FUN.