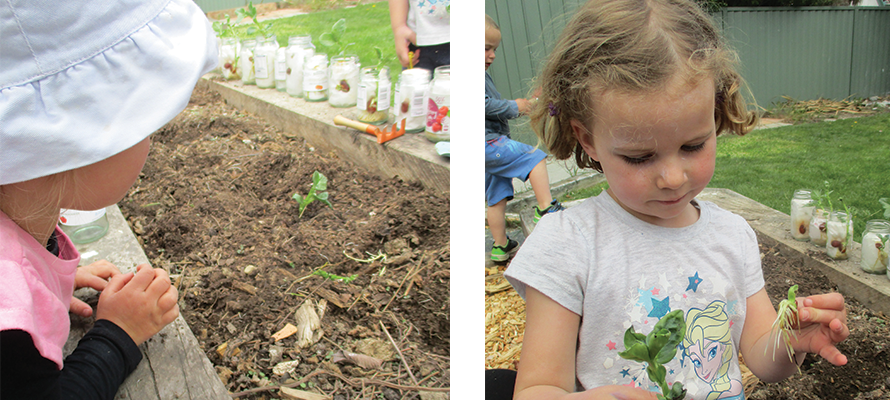 Good things grow at Hawea
What can we give a precious seed to help it grow big and strong? A patch of good soil for starters, some sunshine (ra), water or rain (ua) and of course a very important ingredient - aroha/love!

FIND OUT WHY WE'RE JUST BETTER BECAUSE...

Tamariki at Kidsfirst Hawea have been giving lots of loving care to their sunflower and bean seeds in preparation for a garden project in the newly developed part of the kindergarten's outdoor area.

"We planted beans in jars and pots placed in a warm, sunny spot to help them germinate and grow," says teacher, Kylie Arnesen. "We checked on our bean seeds daily and slowly but surely – some a lot faster than others - they began to sprout."

After term break, tamariki were delighted to discover the beans had in fact grown more while they were away, with some even stretching their fabulous roots and shoots out of the jar.

"We were in awe of the patterns and structure of the roots," says Kylie. "How one small bean seed can produce so much had us all truly amazed."

Each bean seedling was carefully, one by one, transplanted into the garden planter boxes. Children are becoming kaitiakitanga - guardians of their land - as they proudly take ownership over this newly developed garden space.

"We can't wait to watch our garden take shape and, once the seeds become established, to watch them flourish over the coming weeks. We welcome whānau to come and take a look, and to pitch in and help keep it maintained."

"At harvest we will let whānau know as our garden will be all about sharing and caring."

Way to grow Kidsfirst Hawea!

.

Kidsfirst Kindergartens
Head Office, 43 Birmingham Drive, Middleton, Christchurch 8024
+64 3 338 1303 email: questions@kidsfirst.org.nz
Postal Details: Kidsfirst Kindergartens, PO Box 8089, Christchurch 8440
KIDSFIRST KINDERGARTENS ARE A NOT FOR PROFIT ASSOCIATION WITH OVER 70 KINDERGARTENS AND EARLY LEARNING CENTRES COVERING CHRISTCHURCH, CANTERBURY, CENTRAL OTAGO, BANKS PENINSULA AND THE WEST COAST - AND HAS DONE SO FOR OVER 100 YEARS
- AS THE PLACE LOCAL KIDS COME TO LEARN, PLAY AND HAVE FUN.