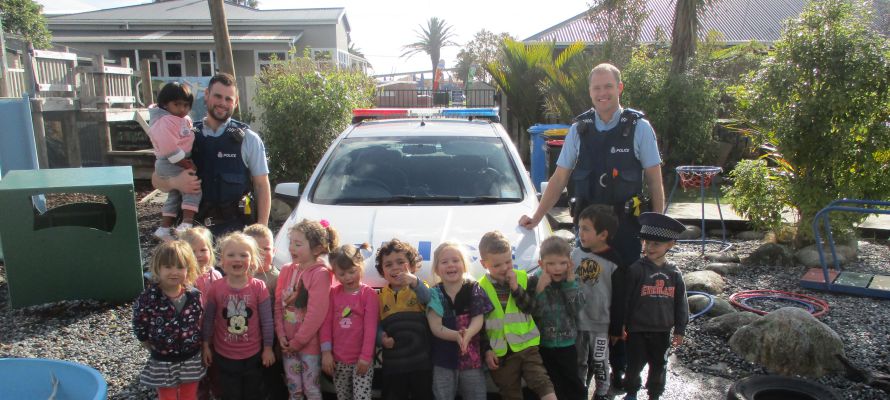 Children thrilled with police visit to kindergarten.
Getting involved with our local community is what it's all about at kindergarten. We work closely with parents, whānau and our wider community to broaden childrens' horizons and expand our neighbourhood connections.

FIND OUT WHY WE'RE JUST BETTER BECAUSE...

Children at Kidsfirst Greymouth were thrilled to have a surprise visit from the Greymouth Police.

"The police car was parked outside kindy, so we invited them in to say hello," says Teacher, Lauren Wells.

Wow, what a cool experience sitting in the car!

"The children had a lot of questions for officers Al and Ricci - we may have a few future police recruits I think!"

We are so very proud that our kindergartens are places where children, teachers, parents and community are so engaged with each other.

We love what we do here at Kidsfirst - and it shows.

.

Kidsfirst Kindergartens
Head Office, 43 Birmingham Drive, Middleton, Christchurch 8024
+64 3 338 1303 email: questions@kidsfirst.org.nz
Postal Details: Kidsfirst Kindergartens, PO Box 8089, Christchurch 8440
KIDSFIRST KINDERGARTENS ARE A NOT FOR PROFIT ASSOCIATION WITH OVER 70 KINDERGARTENS AND EARLY LEARNING CENTRES COVERING CHRISTCHURCH, CANTERBURY, CENTRAL OTAGO, BANKS PENINSULA AND THE WEST COAST - AND HAS DONE SO FOR OVER 100 YEARS
- AS THE PLACE LOCAL KIDS COME TO LEARN, PLAY AND HAVE FUN.