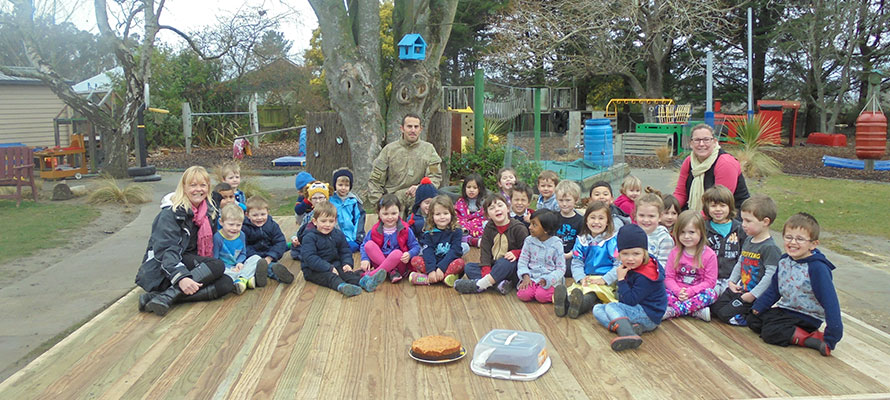 | | | |
| --- | --- | --- |
| | | Kidsfirst Burnham is well known in the neighbourhood, and support for the kindergarten comes from all sorts of unique places. |
OUR TOP STORIES:

One of the benefits of Kidsfirst is that we are local, in your neighbourhood and connected to what's going on around us.

"Anything that needs doing at the kindergarten, the community is always there to help. We've had soldiers building storage sheds and a new decking area, families helping to regenerate our wonderful nature garden, and local amenities like the fire station, the army camp library, the army band and the transport regiment that have always welcomed us in to come and learn from them," says teacher Ingrid Livingstone, who has taught at the kindergarten for five years.

Parents and whānau at Kidsfirst Burnham are constantly sharing their own skills and knowledge within the programme, with cooking, gardening, crafts, their personal professions and the arts. Being benefactors of such wonderful community support has had a profound affect on the teachers there.

"This commitment and enthusiasm of the Burnham community inspires the teaching team here to also go above and beyond to provide a consistently secure and safe, yet stimulating, fun and challenging environment that follows the needs and interests of the children's learning. We constantly want to improve and be innovative in giving back to our Burnham community."

QUICK READ

If Kidfirst Burnham ever needs a hand with anything at the kindergarten, the local community is always there to help. Like when Burnham army soldiers built them a brand new deck.
KIDSFIRST KINDERGARTENS ARE A NOT FOR PROFIT ASSOCIATION THAT HAS DEVELOPED AND MAINTAINED KINDERGARTENS IN CHRISTCHURCH, CANTERBURY AND ON THE WEST COAST FOR OVER 100 YEARS - AS THE PLACE LOCAL KIDS COME TO LEARN, PLAY AND HAVE FUN.