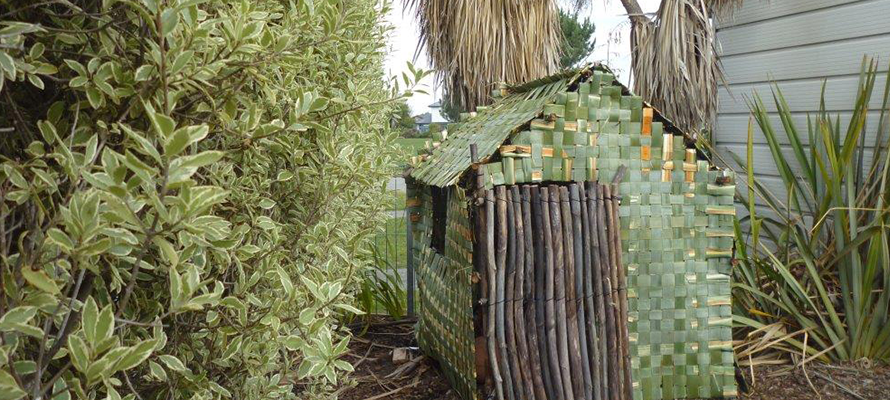 | | | |
| --- | --- | --- |
| | | Kidsfirst Belfast Kindergartens little flax whare - inspired by nature. |
OUR TOP STORIES:

Here at Kidsfirst we take great pride in all of our wonderful outdoor settings, with plenty of space for adventurous play. At Kidsfirst Belfast you'll find a new addition to the outdoor area, nestled beside the native cabbage and pittisporum trees is a little flax whare.

This came about as recently, on one of their weekly nature trips to the Styx Mill Reserve, a Kidsfirst Belfast father, Greg, showed the children how to made a whare out of harakeke (flax).

The children were fascinated!

So with some time off for the birth of his third child, Greg decided to embark on a project to create a whare for the children in the kindergarten playground.

Greg is a builder and he had the design well planned. He collected the harakeke and korari (flower stalk) locally and worked with the children to make their fantastic little whare.

It took many hours of patient work with the children joining in where possible. Inspired by nature the children now have a whare of their own to play in everyday - and they absolutely love it!

Working together, resourcefully, to create something beautiful in nature - from what nature has to offer - are just the kinds of things that make Kidsfirst kindergartens such a unique part of a kiwi childhood.

QUICK READ

Kidsfirst Belfast now have a fantastic little flax whare of their own to play in. This is thanks to kindergarten dad Greg, who used his building talents for this wonderful playground addition.
KIDSFIRST KINDERGARTENS ARE A NOT FOR PROFIT ASSOCIATION THAT HAS DEVELOPED AND MAINTAINED KINDERGARTENS IN CHRISTCHURCH, CANTERBURY AND ON THE WEST COAST FOR OVER 100 YEARS - AS THE PLACE LOCAL KIDS COME TO LEARN, PLAY AND HAVE FUN.