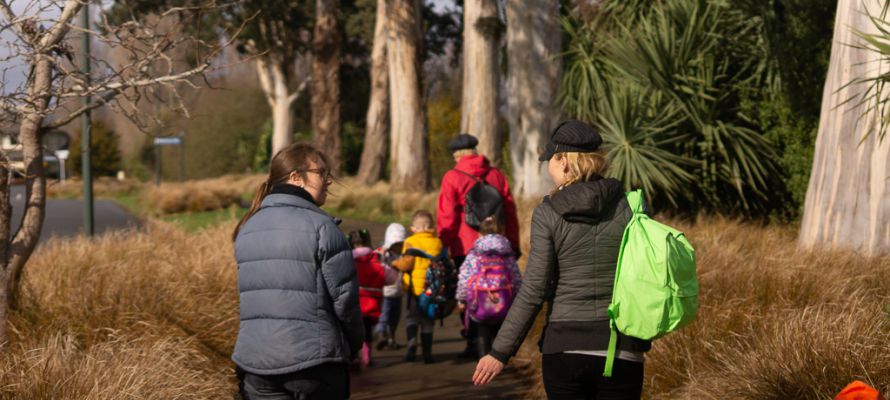 Nature walks for wellbeing.
The Styx Mill Conservation Reserve is a hidden gem and a fantastic local natural environment for the tamariki of Kidsfirst Belfast to explore.

FIND OUT WHY WE'RE JUST BETTER BECAUSE...

"Every few weeks we take a group of children walking at our local Styx Mill Reserve," says Kidsfirst Belfast teacher, Alissa Jardine. "We learn to be good kaitiakitanga (guardians) of our environment and find new ways to build confidence and a sense of adventure in the outdoors."

Roly-polys down slopes, splashing in puddles, collecting worms, spotting fish or lying in the grass to gaze up at the pictures made by clouds, are just some of the ways children practice being at one with nature.

Teacher, Alissa Jardine says nature walks help reinforce learning around mindfulness and wellbeing.

"Our walks help to reinforce the importance of mindfulness and wellbeing," says Alissa. "Getting back to nature and inhaling deep breaths of fresh air feels really good for both your body and mind – at any age!"

A recent walk was made particularly special when Kaumātua (Māori community elder) Teoti Jardine, gifted the kindergarten a karakia to say each time they visit.

Kaumātua (Māori community elder) Teoti Jardine gifted the kindergarten a special karakia.

The special karakia gives both a greeting and gratitude to the nature reserve before entering. In Te Ao Māori (the Maori world view) there are a number of guardians to give thanks to; Papatūānuku earth mother, Ranginui sky father, and Tāne Mahuta god of the forest.

Kidsfirst Belfast's unique karakia/greeting is as follows:

Mihinui tamariki mā.

Nau mai haere mai ki te wao nui o Tane.

Mihi ki te whenua, mihi ki ngā otaota, mihi ki ngā rakau, mihi ki ngā manu.

Mihi ki te awa Pūharakekenui, mihi ki ngā tuna, mihi ki ngā ika.

Mihi nui ki a koutou katoa.

Greetings children and others

Welcome to Tane's world, the world of nature.

Greetings to the land, greetings to the plants, greetings to the trees, greetings to the birds.

Greetings to the Pūharakekenui river. Greetings to the eels, greetings to the fish.

Greetings all and everyone.

"Each visit we can add any new things to our karakia that we have seen or experienced on our walks such as a pukeko, tree or harakeke (flax)."

"We feel very blessed to have this beautiful karakia that Teoti has put together especially for us and from what he knows of our children from his previous experience blessing our Te Whare Tama at kindergarten."

.

Kidsfirst Kindergartens
Head Office, 43 Birmingham Drive, Middleton, Christchurch 8024
+64 3 338 1303email: questions@kidsfirst.org.nz
Postal Details: Kidsfirst Kindergartens, PO Box 8089, Christchurch 8440
KIDSFIRST KINDERGARTENS ARE A NOT FOR PROFIT ASSOCIATION WITH OVER 70 KINDERGARTENS AND EARLY LEARNING CENTRES COVERING CHRISTCHURCH, CANTERBURY, CENTRAL OTAGO, BANKS PENINSULA AND THE WEST COAST - AND HAS DONE SO FOR OVER 100 YEARS
- AS THE PLACE LOCAL KIDS COME TO LEARN, PLAY AND HAVE FUN.