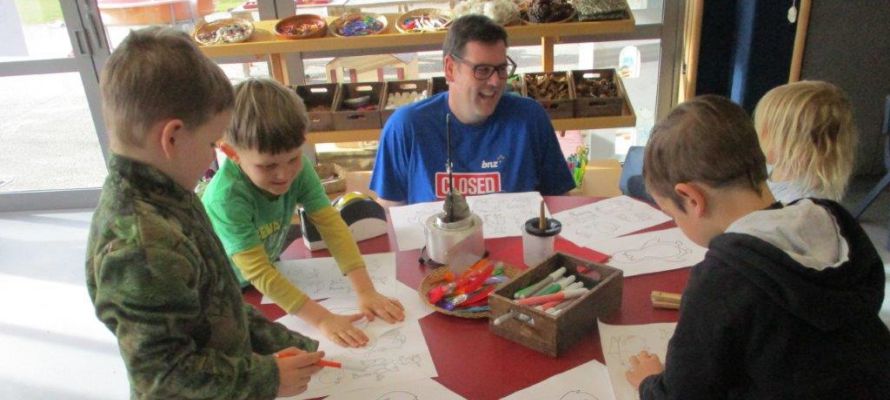 Making good choices with Penny the Penguin .
Sharing Penny the Penguin's adventures has helped children at Kidsfirst Alexandra learn more about the importance of making good choices, as part of the BNZ Closed for Good annual day of volunteering.

FIND OUT WHY WE'RE JUST BETTER BECAUSE...

Kidsfirst Alexandra was delighted to be selected by their local BNZ team as a beneficiary of this year's Closed for Good day. Each year, bank staff leave their desks and head out and about to lend a hand or share some sound advice in their communities.

The children loved the interactive story (shared via BNZ iPads) of keen sailor Penny, a native New Zealand friendly, blue penguin/kororā, as she tries to fix her broken boat.

"Our BNZ visitors and Penny the Penguin were a huge hit with our children," says head teacher, Kaylene Dwyer.

With only four stars to trade for supplies, Penny has to make good decisions and requires input from children to help her make the best choice. Some choices are practical while others are cool to have - but not much help to fix a broken boat!

If a mistake is made, children are gently pointed in the right direction. Penny's adventures help little ones understand the difference between needs and wants and also the great outcomes that can be achieved through making good choices.

"We thank our BNZ visitors for their lovely engagement with the children during their visit," says Kaylene.

"They enjoyed colouring in and painting Penny the Penguin and one child even made a special bed for her out of wood."

We feel very fortunate to have so many local people and businesses in our communities who reach out to support new learning for children at kindergarten.

Good on you BNZ!

.

Kidsfirst Kindergartens
Head Office, 43 Birmingham Drive, Middleton, Christchurch 8024
+64 3 338 1303 email: questions@kidsfirst.org.nz
Postal Details: Kidsfirst Kindergartens, PO Box 8089, Christchurch 8440
KIDSFIRST KINDERGARTENS ARE A NOT FOR PROFIT ASSOCIATION WITH OVER 70 KINDERGARTENS AND EARLY LEARNING CENTRES COVERING CHRISTCHURCH, CANTERBURY, CENTRAL OTAGO, BANKS PENINSULA AND THE WEST COAST - AND HAS DONE SO FOR OVER 100 YEARS
- AS THE PLACE LOCAL KIDS COME TO LEARN, PLAY AND HAVE FUN.