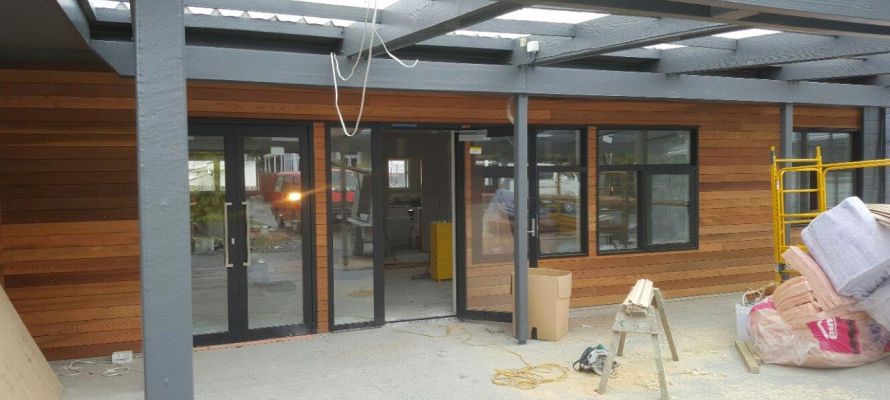 | | | |
| --- | --- | --- |
| | | Kidsfirst Greymouth is having a makeover! It's a complete freshen up inside and out but that's not all, there's a lot more to this kindergarten renovation story than meets the eye... |
OUR TOP STORIES

The really special thing about this refurbishment project is that four of the builders on site to complete the renovations are former Kidsfirst Greymouth kindy kids!

Mike Dunn (Dunny) is the site foreman and fondly remembers kindergarten as, "running around, pushing steady tonka trucks up the footpath and a visit from Santa with a sack packed to the brim full of icecream treats and golden books to dish out for Christmas."

"That would have been over 45 years ago now and it's great to be back here again as part of the current rennovations," says Mike. "Kidsfirst Greymouth is a real community asset and I'm impressed to see how much kindergarten has evolved in leaps and bounds from back in my day."

Another builder involved with the project is Tony Wilkins, he attended the kindergarten as a wee fella, so did his wife Megan and more recently two of their boys with their youngest son next in line!

"For me the thing that sticks to mind about my days at this kindergarten are the peeled and quartered apples together with a glass of milk," says Tony.

"Also, I remember a kindy friend 'Ferguson' - but I called him 'Massey Ferguson' as I was fixated with that brand of tractors!"

Two other builders, Sean Gibson and Tayla Eason, now both in their 20's, also went to Kidsfirst Greymouth as youngsters.

"It's just great that our team has the opportunity to undertake the strengthening and alterations to the kindy, especially given all of our original connections to the place" says Tony.

Kidsfirst Greymouth's relieving Head Teacher Tracy Jennings, is excited to see the kindergarten's renovations progressing so well. "This is a fantastic facelift for our fifty-five year old kindergarten and will result in awesome updated facilities for this West Coast community."

Renovations include a new roof and lined ceilings/walls, double glazed windows, acoustic sound proofing, new bathroom facilities and storage joinery. Plus an additional covered, all-weather outside decked area wheelchair / mobility restricted accessability and finished with comtemporary, external cedarwood cladding.

Since work began in Term two, the temporary premises for Kidsfirst Greymouth has been a couple of streets away at the Greymouth Baptist Church. A move that has created some other unexpected and delightful community connections.

Every Wednesday is Bridge club at the church. Tamariki look forward to their mid-week visitors, often taking their hands on arrival to walk with them through to the club room, followed by a shared afternoon tea put on by the kindergarten. What a great show of Manaakitanga (care/hospitality).

The group of card players have grown very fond of the children and will miss them when they go. It's already been decided that the Bridge club members will plan a visit to Kidsfirst Greymouth once they've moved back - and this time they'll bring the afternoon tea!

"We are lucky to have had these shared church facilities made available to us," says Tracy, "and though a temporary premises will often pose some challenges we decided early on to take a postive attitude towards the move and be innovative in the way we set things up."

"We always teach and expect our children to be problem solvers and think outside of the box - so this time it was our turn," she explains. "We've built a sandpit, popped a swing in the climbing tree and utilised the large area of concrete - lovely ways for the children to establish a sense of belonging and ownership of the space."


"It's been a worthwhile learning experience for us all and a great opportuntiy for our children to develop resilience, to be adaptive and cope with new challenges while remaining inspired and postive."

"The children have been great and the parents fantastically supportive throughout," says Tracy. "Most importantly, we have realised that 'Kindy is not a place - it's a feeling' and that wherever we set up, we can make it feel like ours."

Come December and the end of Term 4 Kidsfirst Greymouth will finish a day or two earlier for the move back to their completed kindergarten and to set up for the welcome return of children in Term 1 of the new year.

"Admittedly when that happens we won't miss the Friday pack up (to clear space for the weekend church community groups) - not the pack up itself but the empty feeling when the littlies have gone home and us teachers are left sitting in a space with none of the childrens special things around us."

"We'll really look forward to our amazing revamped space – with it's big outdoors verandah, modern doors and windows that will be easier to open and our crisp new 'West Coast' colour scheme - shades of grey and green - for a fresher, more inviting look."

"And as lots of children will be leaving Kidsfirst Greymouth to move on to school we've promised to invite them back to the kindergarten at the beginning of the school year so they can experience the new space too."

QUICK READ

This Kidsfirst Greymouth renovation story is a great example of the fantastic kinds of connections through the years and that often begin at kindergarten, especially in tight knit communities like on the West Coast.
KIDSFIRST KINDERGARTENS ARE A NOT FOR PROFIT ASSOCIATION THAT HAS DEVELOPED AND MAINTAINED KINDERGARTENS IN CHRISTCHURCH, CANTERBURY AND ON THE WEST COAST FOR OVER 100 YEARS - AS THE PLACE LOCAL KIDS COME TO LEARN, PLAY AND HAVE FUN.