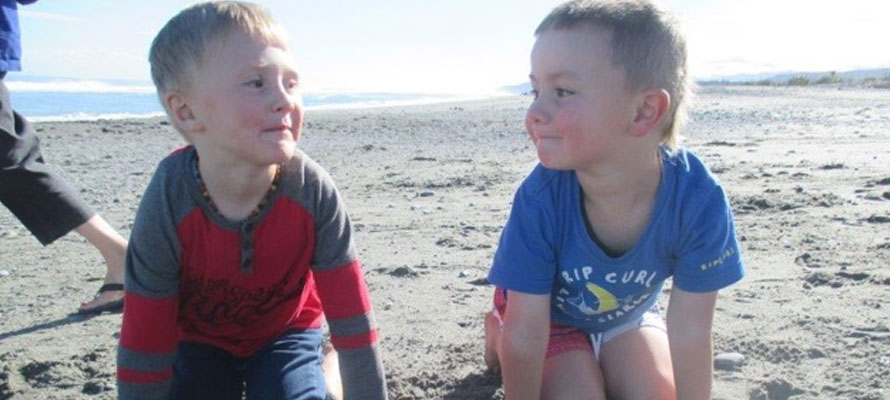 | | | |
| --- | --- | --- |
| | | We're all going on a little blue penguin burrow hunt. Just where do these smallest of penguins retreat to in the sand dunes after a busy day out fishing? |
OUR TOP STORIES

NEWS FROM AROUND

CENTRAL OTAGO

It's all part of a day of discovery and adventure at the beach for Kidsfirst Karoro.

A visit to their local West Coast Paroa beach, enjoying the simplicity and beauty of nature, was an inspirational adventure.

A beach is like a giant sandbox, abundant in natural resources... with sand underfoot, invigorating sea air, and the sound of waves crashing to the shore, while the sun and fluffy white clouds hover over an endless blue horizon - what more could little adventurers want?

Curiosity and wonderment are nurtured through finding taonga (treasures) like shells, feathers and driftwood morphed from time at sea. Gifts washed ashore from Tangaroa, the God of the Sea and son of Ranginui and Papatuanuku, Sky and Earth.

The kindergarten visit was inspired by place-based education. It's a chance for children to make connections to this beautiful beach. Maybe they would find a taonga of pounamu (greenstone) - an important and treasured feature of the West Coast environment, especially for Maori.

And an opportunity to learn more about local wildlife such as little blue penguins and Hector's dolphins, found only along New Zealand coastlines.

The weather was perfect. Kidsfirst Karoro children, parents and whānau - together with Teachers Raelene Johnson, Jo Wood and Education Support Worker, Mary Phillips - had an amazing time exploring the beach. The trip included a penguin hunt, to discover possible burrows where they might be sleeping.

Children found pieces of wood to balance on, jump off and ride on. They discovered an existing sturdy 'tepee,' created from long, twisted lengths of driftwood. It was anchored in the sand and draped with seaweed - come inside…look what we've found!

"The valuable learning which occurs in outdoor settings is evident in the peaceful relationships which develop between children, the freedom of exploration, finding natural resources and the stunning photography," says Teacher, Raelene Johnson.

To embrace respect for the environment and support sustainability they also collected any rubbish they found at the beach, to dispose of back at the kindergarten.

Raelene adds, "It was lovely to share kai together at Paroa beach and just 'be' in such a wild and magic space."

After a busy day exploring the beautiful Paroa shoreline, it was time to kick back around their pretend 'campfire' circled by the big, round greywacke stones collected at the beach…next time remember to bring some imaginary marshmallows to 'toast!'

QUICK READ

A fantastic day of fun and learning happens at the beach. Children are free to run, romp, explore and create with sand, shells and stones.

It's sensory play at its best. As Kidsfirst Karoro discovered with a visit to their local Paroa Beach.

"The valuable learning which occurs in outdoor settings is evident in the peaceful relationships which develop between children...the freedom of exploration... finding natural resources...and the stunning photography,"

- Teacher, Raelene Johnson.
KIDSFIRST KINDERGARTENS ARE A NOT FOR PROFIT ASSOCIATION THAT HAS DEVELOPED AND MAINTAINED KINDERGARTENS IN CHRISTCHURCH, CANTERBURY AND ON THE WEST COAST FOR OVER 100 YEARS - AS THE PLACE LOCAL KIDS COME TO LEARN, PLAY AND HAVE FUN.