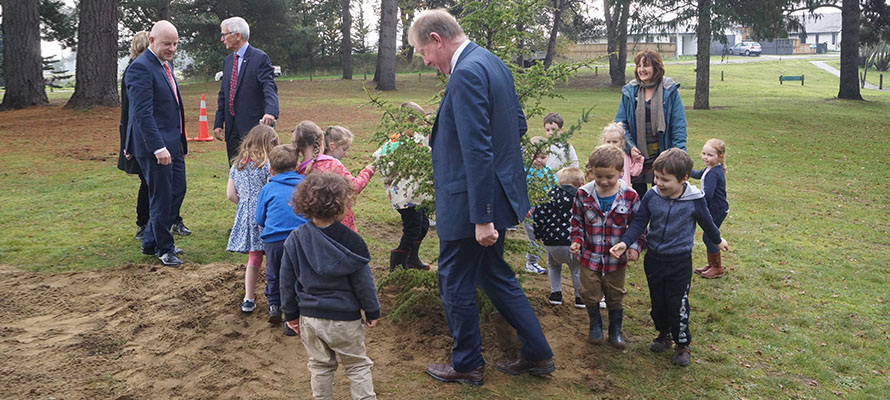 | | | |
| --- | --- | --- |
| | Kidsfirst Kapaipoi North tamariki were excited to help plant a new tree to represent an important milestone since the quakes... | |
SOME OF OUR TOP STORIES

These kindergarten children are looking forward to new opportunities with the extra space now on offer right next door, following the return of land back to the Kaiapoi Domain.

Kidsfirst Kaiapoi North kindergarten community welcomed Hon Dr Nick Smith, New Zealand's Minister for Building and Construction and Waimakariri Mayor, David Ayers, to help children plant a brand new tree in the Kaiapoi Domain.

The ceremonial planting of the Atlantic conifer - that a new generation of kindy kids can continue to look after, watch grow and enjoy - was to celebrate the return of the Domain from the Crown, back to the Waimakariri District.

The section of land had been used as a temporary accommodation site while repairs were being carried out to damaged houses, and is also home to the kindergarten after its original brick heritage building was destroyed in the quakes.

Connections run strong between Kidsfirst Kaiapoi North and the local community. A total of 180 households had called the village home since it opened in July 2011 and a number of young children from these families attended the kindergarten - right next door.

The removal of the village and return of Kaiapoi Domain to the Waimakariri District Council is a significant step forward in quake recovery, and means the reserve can be repurposed for new community use, initiatives and general recreational enjoyment.

The kindergarten will stay for the foreseeable future. They are already talking about playing cricket and kite flying on the spacious new patch of lawn, where the village used to be.

"Live long, grow strong," were the words Kidsfirst Head Teacher, Ally Exton encouraged children to say as each turned a spade of good earth around the new tree to mark this special occasion.
Information including that about fees, services and promotional activities were correct at the date of publication of news stories but may since have changed. Please check with us to ensure information is current.