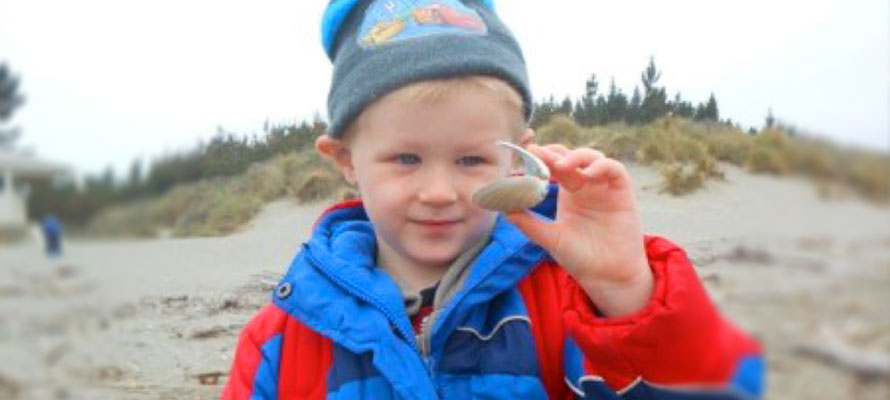 | | | |
| --- | --- | --- |
| | | Excursions outside the kindergarten gates are as important as the learning that goes on behind them... |
SOME OF OUR STORIES

What better way for Kidsfirst children to learn more about the different environments around them than to visit some of them?

From beaches to parks, streams to Wetlands, reserves to wildlife parks, our preschoolers have been expanding their minds and learning more about their effect on the environment in and around Christchurch recently.

Kidsfirst Bush Street went to Waikuku Beach recently. A lot of preparation went into this trip, including the children learning a special mihi to recite.

Kidsfirst Linwood took a trip out to Waimairi beach to focus on the natural taonga (treasures) they could find in their environment. Head Teacher Maxine Apes believes that "all kiwi kids should spend time at the beach", and organised this excursion so that they could do just that.

Families were invited to explore, go hunting for treasures, make sand castles and draw pictures in the sand. One grandparent ended up doing hopscotch in the sand!

Both Kidsfirst Queenspark and Kidsfirst Parklands went exploring out to the Travis Wetlands, a beautiful place to wander around, see native birds and really experience nature close up.

Head Teacher of Kidsfirst Parklands Cindy Snelson said that it was really about "extending discovery through wonderment and awe."

Tamariki were able to articulate why the birds and plants grew so well in this environment - "because of the water - we need water to grow!"

Kidsfirst Queenspark used this trip to show why it's important to care for the environment, and the children extended this out to showing care for each other and for the equipment they use at the kindergarten as well.

The older children were great at helping some of the younger ones to grasp these concepts, said Jo Stewart, Head Teacher at Kidsfirst Queenspark.

Kidsfirst Portsmouth Street and Kidsfirst Richmond both ventured out to Willowbank Wildlife Reserve, a favourite visiting spot for Kidsfirst Kindergartens. There's no shortage of reasons why...It's a great place to wander around, see different types of animals, and enjoy some lunch surrounded by magnificent native bush.

Each term at Kidsfirst Lincoln, it's become a bit of a ritual to head out to Mahoe Reserve, home to more than 7000 native trees, shrubs and grasses. The reserve is just down the road, and a great place to take morning tea to spend time amongst the native bush.

Kidsfirst Shirley went out to Spencer Park, with its sheltered picnic spots, wetland areas, children's adventure playground, paddling pool, bird lookout platforms and many different walks.

ABOVE: Kidsfirst Northcote's trip to Riccarton Bush.

Of course these trips couldn't happen without the help of parents and extra caregivers who stepped up to ensure that the tamariki could safely enjoy their trips outside. The kindergartens all wanted to say a big thank you to those who gave their time so that these excursions were made possible. We couldn't do it without you!

QUICK READ

Excursions are all part of the Kidsfirst experience.

Read about who went where, and what they learned along the way. There's always a lot going on at our kindergartens.
KIDSFIRST KINDERGARTENS ARE A NOT FOR PROFIT ASSOCIATION THAT HAS DEVELOPED AND MAINTAINED KINDERGARTENS IN CHRISTCHURCH, CANTERBURY AND ON THE WEST COAST FOR OVER 100 YEARS - AS THE PLACE LOCAL KIDS COME TO LEARN, PLAY AND HAVE FUN.