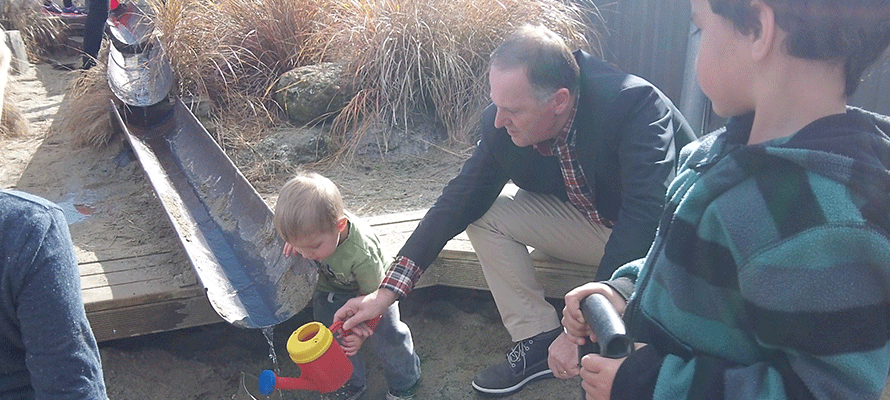 | | | |
| --- | --- | --- |
| | | Children ask Prime Minister John Key the big questions during his visit to Kidsfirst Alexandra… |
OUR TOP STORIES

NEWS FROM AROUND

CENTRAL OTAGO

Kidsfirst Alexandra were delighted and privileged to host the Prime Minister for a friendly, informal visit to their kindergarten, as part of his day in the region.

John Key was given a warm welcome to the kindergarten by the tamariki and the Kapa Haka group from Alexandra Primary School. Kidsfirst CE Sherryll Wilson, Board Chair Louisa Steel and ESM Robyn Leckie were there to greet him too, along with head teacher, Lisa Lowrey.

Chatty and approachable the Prime Minister was a natural with the children and took great interest in many different aspects of the learning environment.

"In the sandpit he played and interacted with children, helping to fill water containers and dig a pretend Lake Dunstan," says Head Teacher, Lisa Lowrey.

"He acknowledged a special sand cake made for him, but (jokingly) was not so keen on a drink of muddy water offered!"

John - as he asked to be called – had to answer some pressing questions from children like "How many bees live in the beehive?"

One politically savvy youngster wondered "When Donald Trump was going to visit the kindergarten?"

"Tamariki remained engaged in play and appeared confident and respectful as they were filmed by a large entourage of media, while security personnel looked on," says Lisa.

The children intend to put pen to paper and write to the Prime Minister telling him the bits they liked best about his visit.

Dear John…

QUICK READ

Prime Minister John Key visited Central Otago's Kidsfirst Alexandra, as part of a day in the region. Children seemed completely unfazed by the entourage of media, happily playing alongside the Prime Minister and quizzing him on a few important matters...

...like "How many bees live in the beehive?"

"To hear the Prime Minister say he would highly recommend our kindergarten was a huge compliment."

- Kidsfirst Alexandra Head Teacher, Lisa Lowrey.
KIDSFIRST KINDERGARTENS ARE A NOT FOR PROFIT ASSOCIATION THAT HAS DEVELOPED AND MAINTAINED KINDERGARTENS IN CHRISTCHURCH, CANTERBURY AND ON THE WEST COAST FOR OVER 100 YEARS - AS THE PLACE LOCAL KIDS COME TO LEARN, PLAY AND HAVE FUN.