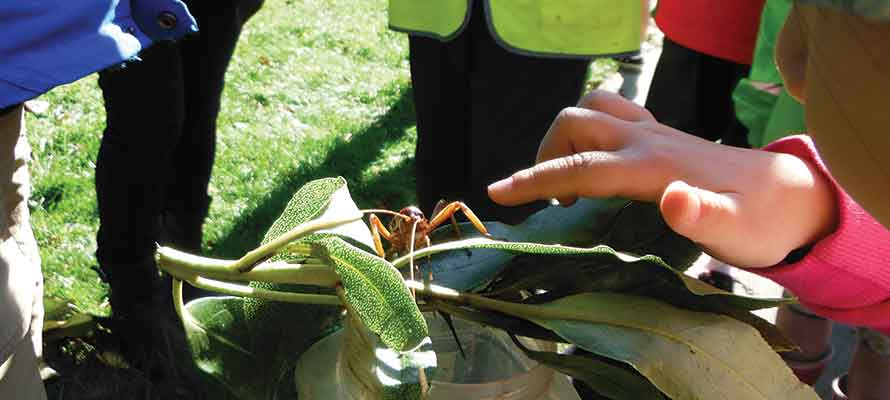 | | | |
| --- | --- | --- |
| | You'll always find something new and exciting happening at a Kidsfirst kindy near you - thanks to our inspiring teachers... | |
SOME OF OUR TOP STORIES

Our teachers are passionate about providing fantastic, creative, fun, new learning opportunities for children - every day.

From extending community and global connections with letter writing, to sharing their wedding day at kindy. Finding unique ways to celebrate Matariki, winning Healthy Heart Awards or getting out and about to explore community or nature are just some of the many amazing ways our teachers inspire learning.

Helping to encourage and reinforce the many positive ways we can teach sustainability and the importance of looking after our environment is Head Teacher, Kathy Harford and the team at Kidsfirst Cotswold.

They use their own chicken's eggs to make the morning tea muffins, took a double decker bus trip to the Eco Shop to see their winning entry in the Little Petals recycled art competition, and found some pre-loved items to restore back at the kindergarten!

Listen to Enviroschool Kidsfirst Lincoln Teacher, Helen Smith talk about what inspires her. She says, "our children inspire us every day and we bounce ideas off each other."

"It could be as simple as children finding a hedgehog in the playground and we'll ask them – well… where is it? How do we find it? What do they eat? …and can we dig up some worms to encourage the hedgehog to come out for a visit? Suddenly we have a whole new topic for investigation and exploration and it becomes a shared and really meaningful experience."

Peter Fleming was recognised as the Inspiring winner for the 2016 Kidsfirst At Our Heart Awards. Not only helping to reinforce the positive role of male teachers at kindergarten, this former Head Teacher of Kidsfirst Broomfield and current Kidsfirst Hawthornden Relieving Teacher clearly continues to inspire.

His love of photography is something he believes fits well into the kindy environment and is keen to share some helpful tips on taking better photos.

From teaching tamariki green screen technology to capturing magic photographic moments Peter is always discovering new ways to be creative and share his knowledge with our young learners and teaching teams. That's why he was awarded our Inspiring Award last year.

You can watch Peter's video here.

These are just a few of the hundreds of special teachers who make Kidsfirst Kindergartens what it is today. In every kindergarten and early learning centre there are amazing stories to be told.

You may also like to read about our five big inspirations.

Or to find out more about our At Our Heart Awards, celebrating those who best exemplify our values in their everyday work.

Ultimately encouraging a lifelong love of learning in the tamariki who come to us is what it's all about.

As one teacher says, "its fantastic to be a part of an organisation that supports learning for all."

Let's hear it for all of our inspiring teachers - every day, around the network giving it their all. You're amazing. Thank you.
Information including that about fees, services and promotional activities were correct at the date of publication of news stories but may since have changed. Please check with us to ensure information is current.