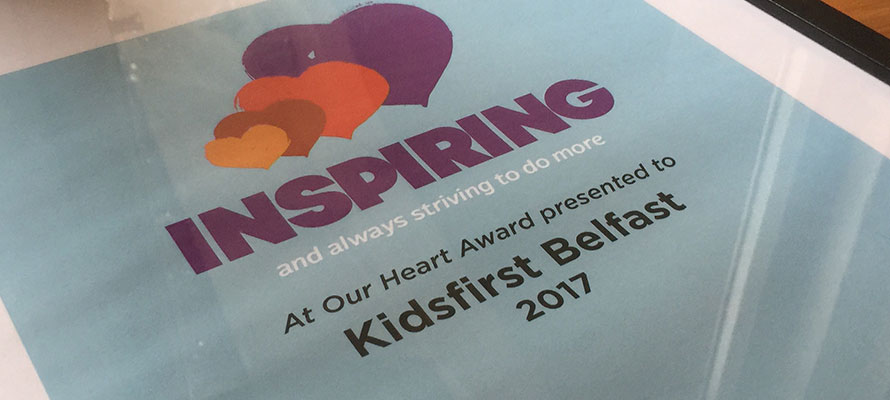 | | | |
| --- | --- | --- |
| | The At our Heart Awards reflect the core values of Kidsfirst and what we believe in... | |
SOME OF OUR TOP STORIES

Congratulations to Inspiring Certificate Winner, Kidsfirst Kindergartens Belfast, recognised in the 2017 At Our Heart Awards, presented at the AGM in May.

Our values are very important to us as an association and we're so proud to be able to celebrate them in this way.

The value of Inspiring – and always striving to do more - is about being innovative, showing leadership, sharing best teaching practice and risk taking. We're so fortunate to have so many inspirational people within our Kidsfirst association who amaze us with their energy, commitment and imagination.

The team at Kidsfirst Belfast are actively involved leaders in their community. They led an innovative Emotion Coaching programme - developing and delivering a course for early year's colleagues. It involved visiting their different settings, providing informative feedback to support subtle shifts in their thinking as well as how they view and respond to children's behavior.

The outcomes of this work have been transformative for teachers, children and whānau. New entrant teachers and Principals have given fantastic feedback about the positive impact of this work and have asked to come and observe the teachers in action at the kindergarten. Parents have learnt and are now using these new skills in their parenting with positive results, even with the older children.

Congratulations on your commendation Kidsfirst Belfast!

Although we celebrate these values each year with awards and certificates, we know that tamariki, families and communities see the behaviours and commitment associated with our values every day, in so many different ways in all of our wonderful kindergartens across the network. So congratulations and keep doing what you're doing so well.


KIDSFIRST KINDERGARTENS ARE A NOT FOR PROFIT ASSOCIATION THAT HAS DEVELOPED AND MAINTAINED KINDERGARTENS IN CHRISTCHURCH, CANTERBURY AND ON THE WEST COAST FOR OVER 100 YEARS - AS THE PLACE LOCAL KIDS COME TO LEARN, PLAY AND HAVE FUN.