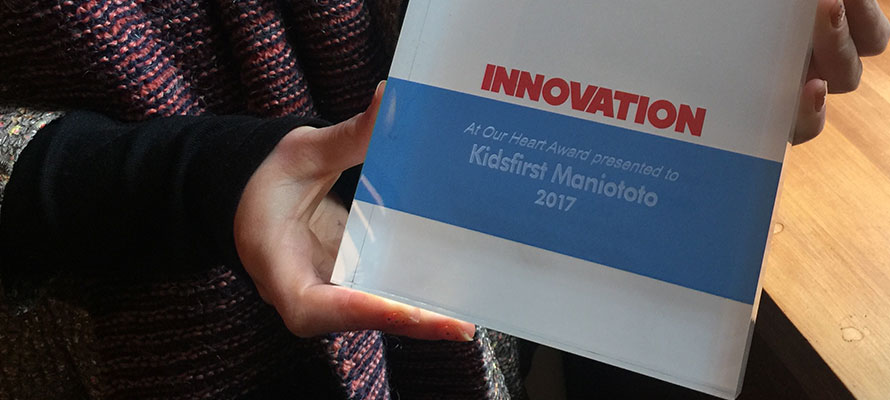 | | | |
| --- | --- | --- |
| | Kidsfirst Kindergartens At Our Heart Awards recognise the kindergartens, early learning centres and individuals who epitomise our core values... | |
SOME OF OUR TOP STORIES

Congratulations to our Innovation in Health and Safety Award Winner, Kidsfirst Kindergartens Maniototo, recognised in the 2017 At Our Heart Awards, presented at the AGM in May.

Our values are very important to us as an association and we're so proud to be able to celebrate them in this way. We work hard to provide the best environment for children to be safe and sound - every day - as they play, learn and have fun.

As an organisation, we are extremely motivated to share ideas and look out for new ways to be innovative and improve in this area. The Health and Safety Innovation Award recognises fantastic processes put in place around this.

Ice and snow can be enchanting and magical, but one frosty winter's morning two teachers at Kidsfirst Maniototo discovered its sting. They slipped on the stairs as they arrived to start the day at kindergarten. Luckily, laughter ensued rather than injury, but these two kaiako knew that the next unexpected iceskater might not be so lucky.

The way that they handled it next – with initiative, positivity and a keen solutions focus – is why they were awarded the Kidsfirst Health and Safety Innovation honour in 2017's presentation.

After filling in all of the appropriate forms and engaging in a good discussion about short and long term solutions, a DIY salting approach was the teaching team's first try. Usually, spreading salt on ice works to melt and prevent its formation by lowering the freezing point of water. But down south, the temperatures were just too Antarctic for the salt to have a lasting effect. It was time for a more innovative solution.

The answer had to be something which could be installed immediately and fit their budget – covering the slippery surface with artificial turf seemed to tick all of the boxes. A quick call to the local handyman and soon the deck and step space were measured, covered, trimmed and secured.

Kidsfirst HR Manager, Karyn Willetts said, "It's great to see these examples of health and safety happening in the workplace. The behaviours and attitudes of staff walking the talk is really special – we can see they genuinely want to improve the environment for safety reasons, not just because they had to."

Artificial turf is not normally encouraged in our Kidsfirst Kindergartens, as natural New Zealand environments are more sustainable and offer plenty of down-to-earth opportunities for children to challenge themselves. However, in this situation, its use was ingenious. Ice won't form on its tufts, and the plush green carpeting brings a splash of green refelecting the surrounding fields and forests to the entrance of the kindergarten.

Congratulations Kidsfirst Maniototo!

Although we celebrate these values each year with awards and certificates, we know that tamariki, families and communities see the behaviours and commitment associated with our values every day, in so many different ways in all of our wonderful kindergartens across the network. So congratulations and keep doing what you're doing so well.
Information including that about fees, services and promotional activities were correct at the date of publication of news stories but may since have changed. Please check with us to ensure information is current.