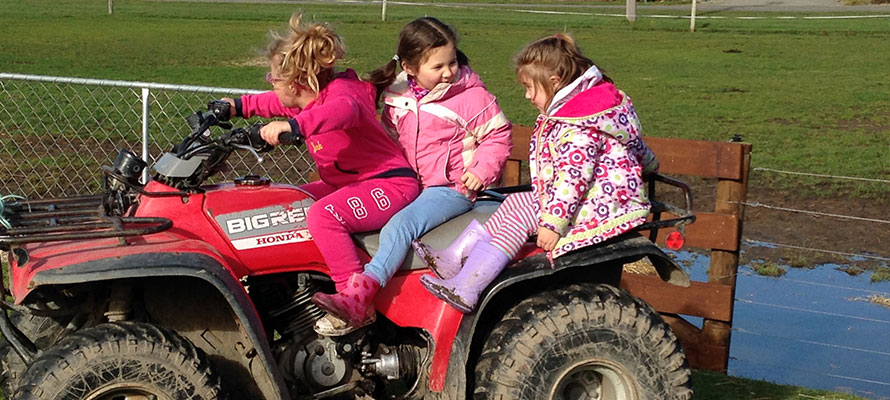 | | | |
| --- | --- | --- |
| | | The excursions that Kidsfirst children have are part of the highlights of their year - see here and here for what magical adventures different kindergartens have taken recently. |
OUR TOP STORIES:

Kidsfirst Hornby is no different. Understanding the value of experiencing different environments, rather than just learning or reading about them, the kindergarten takes a trip out to a local farm every week.

Each Thursday morning, Kidsfirst Hornby heads out to a local farm to really get in touch with the area's rural roots. It's a chance for children to experience things outside of kindergarten that that they may have never seen before, and have a great time outdoors.

"The farm is the perfect place to play and learn in a natural environment," says Head Teacher Louise Hoggart. Children and teachers play with the animals, learn about what farm work is, and get a real hands-on, Kiwi experience together.

"We play with animals, do farm work such as feeding, exercising and cuddling animals, have pony rides, and play catch with Foxy the dog. Farmer Bronwyn teaches us all about the different ways that she and her helpers take care of the animals. We have seen a chicken lay an egg, the miniature pony have her fur trimmed in time for the warmer weather and we fed a bottle to Emmi-Lou, the six day old baby calf."

"Sustainability is on all of our minds and so together we collect all our food scraps into a bucket which we take to the farm every Thursday to feed the animals," says Louise.

"When we ask our tamariki what they enjoy most about our farm visits, many will say the animals, others enjoy searching for eggs which the free range chickens lay and others say they enjoy playing in the mud!"

These excursions outside the kindy gates help the children to maintain links with both the animals and the farmers, and provides a safe, exploratory space where they can see, touch, and explore somewhere new.

QUICK READ

Every Thursday, Kidsfirst Hornby head out to their local farm. Have a read about why this has become such an important part of their week.
KIDSFIRST KINDERGARTENS ARE A NOT FOR PROFIT ASSOCIATION THAT HAS DEVELOPED AND MAINTAINED KINDERGARTENS IN CHRISTCHURCH, CANTERBURY AND ON THE WEST COAST FOR OVER 100 YEARS - AS THE PLACE LOCAL KIDS COME TO LEARN, PLAY AND HAVE FUN.