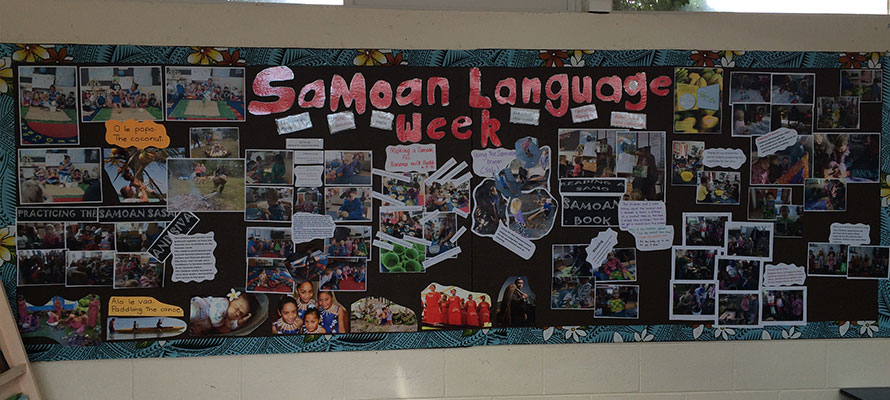 Kidsfirst Hornby invited Chief Executive Sherryll Wilson along to their Samoan Language Week concert and traditional

umu

– the equivalent of a hangi, but cooked above the ground.
OUR TOP STORIES:

The interest in Samoa was something Head Teacher Louise Hoggart said the children had been actively pursuing since the beginning of term. Teacher Aiga Latu brought in some coconuts for the children to see and this began a fascination with the island nation. Over the last few weeks, children have learned traditional Samoan siva (dancing) and pese (songs), made Samoan poi, made milkshakes from coconut milk, used a salu (Samoan broom) to clean the garden, tried Samoan weaving and created island necklaces. They were so fascinated by Aiga's traditional costume that some of the girls started drawing skirt designs, and Aiga offered to make them in time for the concert.

The culmination of these interests was a special Samoan Language Week concert and celebration. "Whānau were invited in earlier in the week to prepare the food for the umu, and they came in droves, ready to peel, chop and wrap up packages of food in tinfoil for the umu. The children also got involved, peeling the green bananas and husking the coconuts," says Louise.

On the day, everyone was dressed in special skirts made by Aiga, including all of the teachers. Sherryll was given a lei (above) and seated with other guests of honour including Rayleen McAuliffe, a long term teacher at Hornby currently on a leave of absence, and Kidsfirst Māori Advisors Cath Milio and Hūhana Carter. After the children performed their special songs for whānau, Aiga's husband & son then served the umu for everyone to enjoy.

A feast was provided, with lamb, freshly caught fish, chicken drumsticks, sausages, kumara, potatoes, breadfruit, taro, and coconut bread for everyone to try.

"It was a great way to immerse ourselves in a different culture for a while, and that children have really taken to different aspects individually. We're so lucky to have Aiga here to teach not only the children, but also the Kidsfirst Hornby staff!" say Louise.

ABOVE: Kidsfirst Chief Executive Sherryll Wilson (L) with Kidsfirst Hornby Head Teacher Louise Hoggart.
KIDSFIRST KINDERGARTENS ARE A NOT FOR PROFIT ASSOCIATION THAT HAS DEVELOPED AND MAINTAINED KINDERGARTENS IN CHRISTCHURCH, CANTERBURY AND ON THE WEST COAST FOR OVER 100 YEARS - AS THE PLACE LOCAL KIDS COME TO LEARN, PLAY AND HAVE FUN.