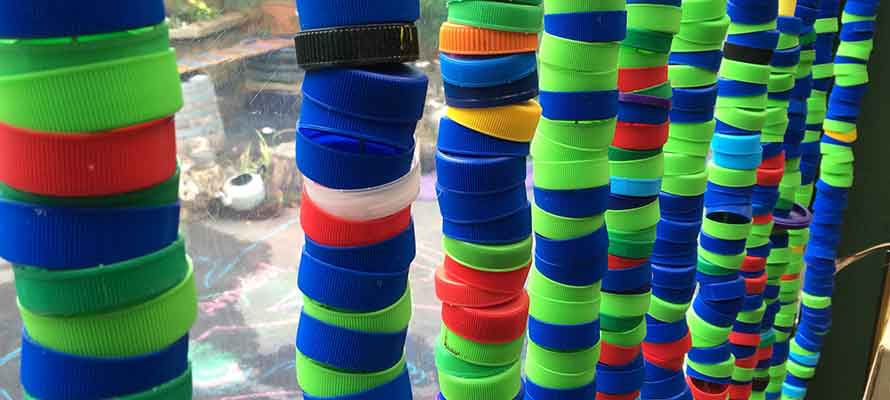 | | | |
| --- | --- | --- |
| | | Part of being a sustainable organisation is about finding uses for things that might otherwise be thrown into the rubbish. |
SOME OF OUR STORIES

Teacher Abina Loader at Kidsfirst Hoon Hay has a fantastic example of this!

She was reading an article in 'Green Ideas', the sustainability magazine, and saw a picture of bottle tops stacked on top of each other as a garden sculpture, in all sorts of different colours.

When she showed the picture to the children at Kidsfirst Hoon Hay, they were all very interested.

When Abina asked them where they could get the bottle tops from, Pippa said, "from home – bring them to kindergarten". Easter said, "we could ask our Mum and Dad", and JJ remembered that he had seen blue ones at home before.

A note was put out to whānau (and the local milkman) to help them in their quest, with very successful results!

The children, along with parents and caregivers, set to drilling holes in the top of the lids and stacking them on metal rods. The rods had been set in a bucket with concrete, so that they could withstand the wind and rain.

It was a great to see the community come out when it was time to "plant" the sculpture in the grounds. When the rods had been filled with lids of every colour, the bucket holding all them was buried in the garden, so that it looked like the rods were alive, springing from the ground!

The project didn't stop there though…

Because of the great community effort in collecting bottle tops, they had a lot left over. Not only that, it had well and truly sparked the childrens imaginations.

After showing tamariki photos of other artwork made with bottle tops, they all decided to use them to make a picture. A discussion was held about where a good place to display it would be. Together the teachers and children decided the best place would be on the back of the playhouse – so it could be seen from the front gate.

All sorts of ideas were bandied about as to what the picture might be – a butterfly, flowers, a unicorn, a dolphin, an elephant, or someone diving were just some of the many examples given.

A great sorting exercise was undertaken by the children to put the bottle tops into different containers, depending on their colour. They ended up with ten different coloured tops for their project – what a great variety.

This led to making a butterfly sculpture out of bottle tops for the wall of the kindy as well as some more sculptures for the garden, including ones with flower heads.

These are a permanent fixture at Kidsfirst Hoon Hay, so stop in and have a look!

Something that could so easily have been put in the bin now makes Kidsfirst Hoon Hay brighter and more fun – doesn't that make sustainability easy and colourful?

QUICK READ

Kidsfirst Hoon Hay collected bottle tops and made them into an array of colourful outdoor sculptures.
KIDSFIRST KINDERGARTENS ARE A NOT FOR PROFIT ASSOCIATION THAT HAS DEVELOPED AND MAINTAINED KINDERGARTENS IN CHRISTCHURCH, CANTERBURY AND ON THE WEST COAST FOR OVER 100 YEARS - AS THE PLACE LOCAL KIDS COME TO LEARN, PLAY AND HAVE FUN.