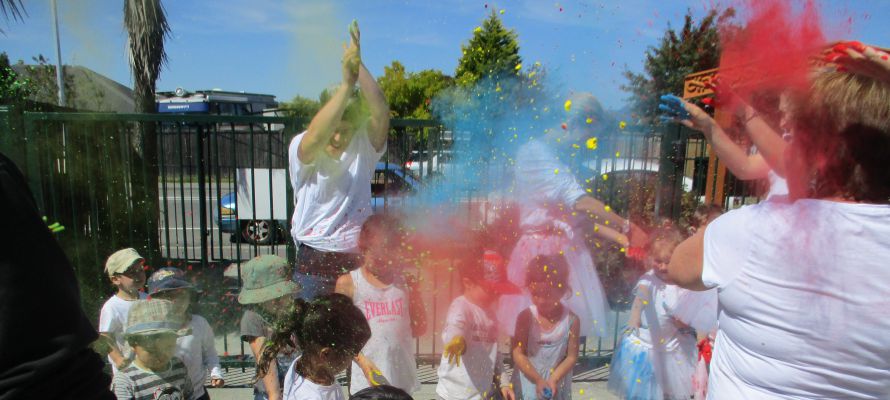 | | | |
| --- | --- | --- |
| | We love to celebrate all the many different cultural traditions in our kindergarten communities, like with this paint popping Hindu Holi Festival fun at Kidsfirst Wigram... | |
SOME OF OUR TOP STORIES

Celebrating the Hindu 'Holi Festival' added a bright splash of fun to this Kidsfirst Wigram kindergarten day. Celebrated by Hindus around the world, this festive Holi day honours love, friendship and the arrival of spring.

Revellers traditionally throw bright coloured paint at each other in carefree abandonment. It's a chance to simply play, laugh and dance together. A reminder to forgive and forget and to make amends with broken relationships.

The philosophy behind the celebration, also known as the 'Festival of Colour,' is that once splattered from head to toe in brilliant shades of paint, everyone is the same regardless of race, wealth or religion.

Kidsfirst Wigram celebrated the Holi Festival in style with Bollywood music and dance, sweet Indian food treats and the customary throwing of colourful paints onto their 'blank canvas' white clothing.

"We have a large multi-cultural community here at Kidsfirst Wigram and this was such a wonderfully rich and lively traditional celebration to be a part of," says Head Teacher, Cindy Dean.
Information including that about fees, services and promotional activities were correct at the date of publication of news stories but may since have changed. Please check with us to ensure information is current.