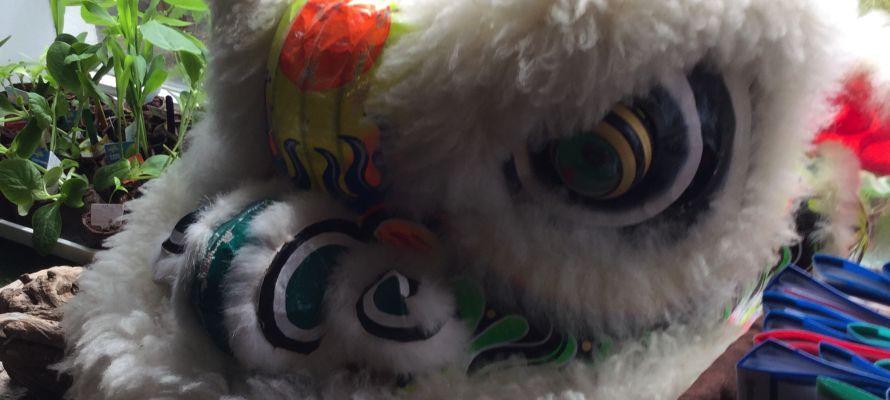 Celebrating Chinese New Year.
新年快乐 / Xīnnián kuàilè / Happy Chinese New Year! We welcome the opportunity to explore family traditions unique to each child and celebrate diversity.

FIND OUT WHY WE'RE JUST BETTER BECAUSE...

Chinese New Year is a time for new beginnings and a fresh start, with red the celebrated colour representing good luck and prosperity.

Kidsfirst Hei Hei kindergarten celebrated Chinese New Year with a set of Lion dance costumes that Teacher, Ngam Brown had managed to borrow (an adult and a child Lion costume).

Tamariki, a parent and a teacher were involved in the performances set to vibrant, traditional drumming music.

CELEBRATING CHINESE NEW YEAR WITH A TRADITIONAL DANCING LION.

CHILDREN CREATE VIBRANT RED ENVELOPES FOR CHINESE NEW YEAR.

"Our children made red envelopes which are a customary gift (containing money) for family and friends on Chinese New Year," says Teacher, Niki Maritz.

As part of their celebrations, children also learnt songs in Mandarin, created art inspired by the Lion costumes and families were invited for shared kai.

We really value and appreciate families sharing special cultural events with us, giving tamariki opportunities to try new things and help make connections with the wider world.

Did you know?

- 2018 is the Year of the Dog, one of the twelve year cycle of animals to appear in the Chinese zodiac, related to the Chinese calendar.

- People born under this sign are said to have the great attributes associated with a dog, being good friends, loyal and loving – positive personality traits in anyone's book.

- If you were born in the Year of the Dog i.e 1958, 1970, 1982, 1994 then you are in good company. You are with eminent personalities such as Michael Jackson, Winston Churchill, Prince William, Dr Jane Goddall, Confucius, Socrates, Benjamin Franklin and the Canadian author Lucy Maud Montgomery, best known for a series of novels beginning in 1908 with Anne of Green Gables, just to name a few who share the Year of the Dog with you.

- The character 狗 refers to the actual animal while 戌 refers to the zodiac animal.

.

Kidsfirst Kindergartens
Head Office, 43 Birmingham Drive, Middleton, Christchurch 8024
+64 3 338 1303 email: questions@kidsfirst.org.nz
Postal Details: Kidsfirst Kindergartens, PO Box 8089, Christchurch 8440
KIDSFIRST KINDERGARTENS ARE A NOT FOR PROFIT ASSOCIATION WITH OVER 70 KINDERGARTENS AND EARLY LEARNING CENTRES COVERING CHRISTCHURCH, CANTERBURY, CENTRAL OTAGO, BANKS PENINSULA AND THE WEST COAST - AND HAS DONE SO FOR OVER 100 YEARS
- AS THE PLACE LOCAL KIDS COME TO LEARN, PLAY AND HAVE FUN.