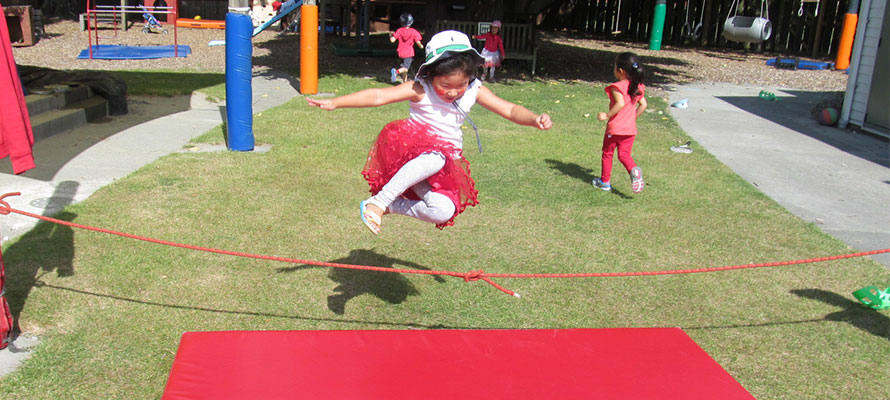 | | | |
| --- | --- | --- |
| | | Kidsfirst has always placed special emphasis on teaching children to eat well and get enough exercise. Our kindergartens and early childhood centres work hard to get children and families interested in, and keep them engaged with, the idea of heart health. |
OUR TOP STORIES:

We are enthusiastic supporters of the Heart Foundation's Healthy Heart drive - in fact, Kidsfirst was the very first early childhood education centre to get the Healthy Heart award.

In 2009, Kidsfirst Northcote received New Zealand's first Pā-Harakeke award, the highest tier of Healthy Heart award, when it was first introduced. This was to "provide recognition of your ECE service's flourishing healthy eating and physical activity environment, extending it beyond your immediate ECE setting into the wider community." What a great example of community engagement.

Our kindergartens have kept up the momentum. Recently two were visited by Chloe Balderstone from the New Zealand Heart Foundation and presented with Healthy Heart awards.

Kidsfirst Northcote Head Teacher Janet Wills led the Healthy Hearts charge in her kindergarten (see below).

"We've managed to get the award three times since it was first introduced, which is the most it's possible to get. Every time the renewal comes back around, six months out we'll organise the Heart folder, collect the learning stories and photos. As a team, we are so passionate about this. It's a really worthy cause and I think it's great to be able to emphasise these things for children early on in their lives," says Janet.

ABOVE: Chloe visiting Kidsfirst Shirley when they received their Pa Harakeke Award in 2014.

Kidsfirst Hokitika are putting together their Healthy Heart portfolio in conjunction with Skipping September, an initiative being run by the whole team. They have also received the Pā-Harakeke award.

Head Teacher Ceridwyn Dimmick says, "In order to be eligible to enter, you need to have proof that you're encouraging behaviour that benefits our hearts. This includes learning stories, photos, parents education, physical resources at the kindergarten and teachers' professional development about healthy living. It's a lot of work, but for our kindergarten, it's absolutely worth it."

At Kidsfirst McKenzie, they have celebrated Healthy Heart Day for several years, and regularly support the Jump Rope for Heart promotion. The teachers say that it just adds another dimension to the physical aspect of the programme, and children and their whānau learn more about the importance of leading a physically active and healthy lifestyle.

"We're so lucky here in New Zealand to have the space that we do. Many of our children are born overseas, and often come to us with little experience of being able to run freely and explore, and so at Kidsfirst McKenzie we encourage our children to make the most of our large outdoor area and ngahere (their outdoor forest)," says Head Teacher Jane Hynes.

QUICK READ

Why is it so important to keep our hearts healthy? See which Kidsfirst Kindergartens are putting their hearts - at the heart!
KIDSFIRST KINDERGARTENS ARE A NOT FOR PROFIT ASSOCIATION THAT HAS DEVELOPED AND MAINTAINED KINDERGARTENS IN CHRISTCHURCH, CANTERBURY AND ON THE WEST COAST FOR OVER 100 YEARS - AS THE PLACE LOCAL KIDS COME TO LEARN, PLAY AND HAVE FUN.