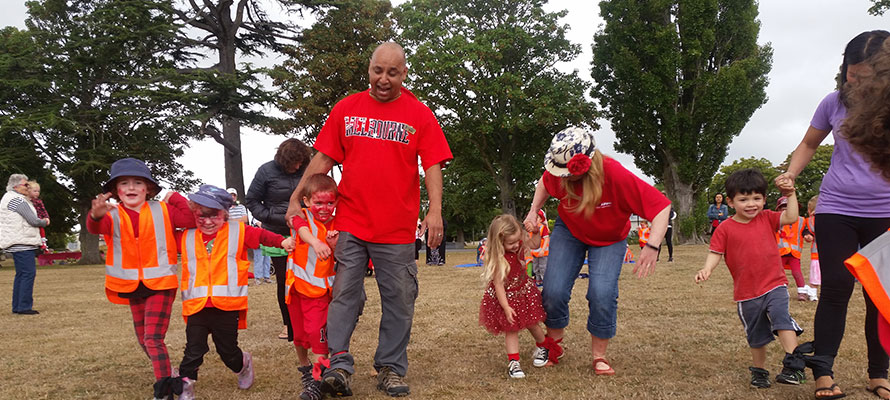 | | | |
| --- | --- | --- |
| | Our teachers understand that kindergartens and early learning centres are great channels for healthy messages, and young children are fantastic agents for change within families... | |
SOME OF OUR TOP STORIES

One of the big strengths of the kindergarten tradition is its level of involvement with families and communities.

Kidsfirst's 71 kindergartens and early learning centres across Canterbury, Banks Peninsula, Otago and Westland are enthusiastic supporters of the Heart Foundation's Healthy Heart programme, which encourages children and their families to take an interest in heart health.

The Heart Foundation awards recognise early childhood services that promote healthy food choices and encourage physical activity in centres, at home and within the wider community.

2017 saw some notable Healthy Heart achievements at Kidsfirst Kindergartens...

Kidsfirst Templeton scooped the overall South Island award for their 'Heart Day,' while Kidsfirst Northcote was recognised with a Healthy Heart Gold Pā-Harakeke (flourishing) Award. And, Kidsfirst Templeton was named overall South Island winner for its efforts promoting the Foundation's 'Heart Day'.

"Coming together as a kindergarten family and community was our inspiration for celebrating 'Heart Day' with a picnic at our local park," says Head Teacher, Trish Ralston.




"We dressed in red and walked down to the domain where we shared a healthy picnic. We all had lots of fun together with egg and spoon races, three legged races, sack races and parachute games. To keep our heart rates pumping we also played our favourite kindy games of duck, duck, goose and honey hunt."

Parents and whānau also donated money on the day, which was passed on to the Heart Foundation Annual Appeal.

Many Kidsfirst kindergartens and early learning centres are actively involved in Heart Foundation activities.

Award presenter Bek Parry, Nutrition Advisor with the Heart Foundation in Canterbury, is impressed with the way Kidsfirst Northcote always shoots for gold. "They do really great work to consistently promote gentle messages at kindergarten around keeping hearts healthy."



The kindergarten has held Gold award status ever since the awards started back in in 2010.

"We were the first early learning centre to achieve the Gold Award," says Kidsfirst Northcote Head Teacher, Leigh Downie, "and we are really proud of our continuing achievements."

Kidsfirst Hoon Hay kindergarten received The Heart Foundations highest tier Gold Healthy Hearts award!

"We try to use as much fresh produce from our garden as we can at kindergarten and any extra harvest we give to parents to take home," says Teacher, Cathy Fraser. "It's all about reinforcing good, positive, healthy heart food choices."




Another example is Kidsfirst Ilam who have been working in collaboration with the Heart Foundation and in2hula to trial the Hoop with Heart programme.

The children/tamariki hula hooped to music, participated in games and used the hoops to act out a story. Their reaction of joy and laughter helped convince the Hoop with Heart team to roll out the programme in other early learning services and centres around Canterbury.

Well done to all of the children, teachers and whānau who participate in Heart Foundation initiatives – encouraging physical activity and healthy food choices by making it fun.
Information including that about fees, services and promotional activities were correct at the date of publication of news stories but may since have changed. Please check with us to ensure information is current.