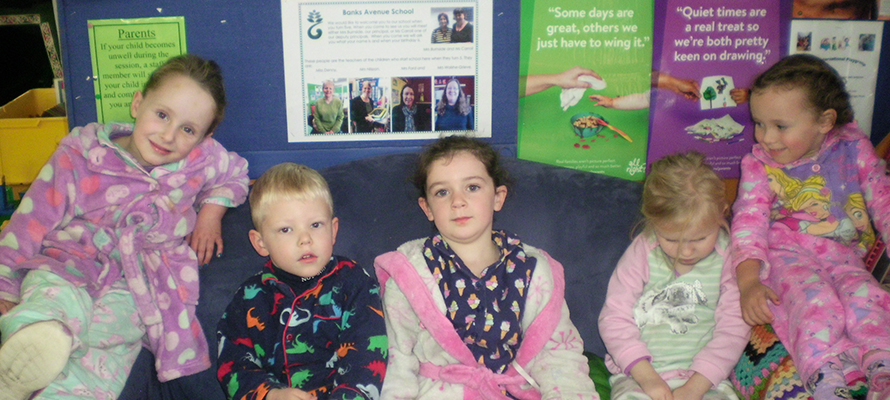 | | | |
| --- | --- | --- |
| | | These tamariki bounced out of bed and headed to kindergarten still in their pyjamas for a fun morning to promote healthy hearts... |
OUR TOP STORIES

NEWS FROM AROUND

CENTRAL OTAGO

In support of their focus on nutritious eating for strong, healthy bodies and minds, Kidsfirst Shirley children, parents and whānau arrived snuggly wrapped in their sleepwear to enjoy a shared breakfast.

Amongst the slipper-footed breakfast goers to join their banquet was a (onesie) unicorn, black bear and skeleton…even the teachers and parents wore their onesies!

"Chloe Balderstone, from the Heart Foundation (dressed as a shiny, red heart) also joined us and set up a fantastic informative display highlighting how much sugar is in foods that are considered healthy," says Teacher, Anita Stowell. "She also provided information and welcomed discussion on healthy choices for children and whānau."

"Chloe is supporting us to achieve our renewal of the Pā- Harakeke Heart Award - that reinforces the benefits of healthy eating and regular exercise," explains Anita.

On the breakfast menu was a delicious and healthy selection to choose from - fruit salad and yoghurt, rice bubbles, cornflakes or weetbix with milk, wholemeal toast and crumpets (vegemite, peanut butter or plain) with grilled bacon and boiled eggs. And milk and water to drink.




"The children imagined they were at a restaurant and practiced waiting patiently. They made choices about what they would like to eat and drink, showed good manners and demonstrated manaakitanga. We are so proud of our tamariki," adds Anita.

To encourage healthy choices the kindergarten has two great visual wall displays. A 'breakfast foods sugar board' highlights how much hidden sugar is in some popular breakfast products - with some BIG surprises! While a 'healthy lunchbox ideas' display shows the sugar content (measured in teaspoons) in snack foods that are often considered healthy and marketed as such.

"Chloe left some fabulous hand-outs and brochures for healthy lunch box ideas," says Anita. "This information helps to empower and inspire us to make better choices for our bodies and minds."

"Thank you to our families for contributing food for breakfast and for helping out in the preparation, serving and tidy up. We really appreciate your assistance and generosity."

QUICK READ

Kidsfirst Shirley stayed snug as a bug still in their pyjamas for a shared healthy hearts breakfast, as part of achieving renewal of their Pā- Harakeke Heart Award.
KIDSFIRST KINDERGARTENS ARE A NOT FOR PROFIT ASSOCIATION THAT HAS DEVELOPED AND MAINTAINED KINDERGARTENS IN CHRISTCHURCH, CANTERBURY AND ON THE WEST COAST FOR OVER 100 YEARS - AS THE PLACE LOCAL KIDS COME TO LEARN, PLAY AND HAVE FUN.