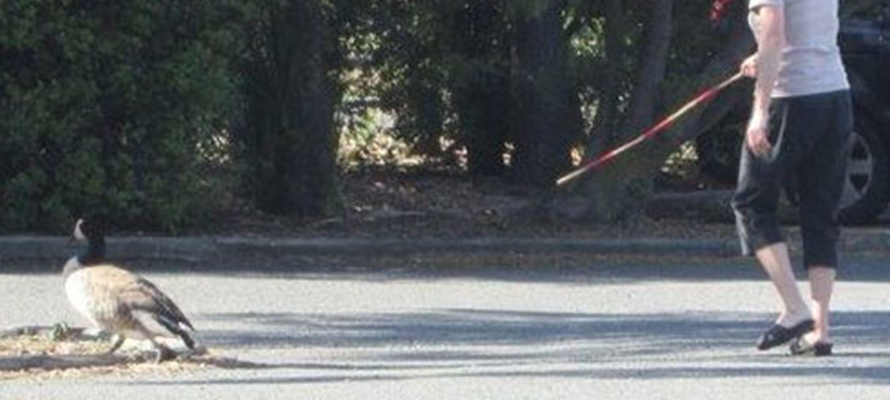 | | | |
| --- | --- | --- |
| | | Kidsfirst Hawthornden had a wild goose chase on their hands when a new arrival blew into the kindergarten... |
OUR TOP STORIES:

Kidsfirst Hawthornden were recently surprised to find a new enrolment had arrived at the kindergarten…a goose!

"We wondered if it was an escapee from Thanksgiving or the early arrival of a Christmas gift?" says Teacher Catherine Gerslov-Wright.

It must have blown-in on the Nor-Wester and had a lovely, peaceful night sheltering at the kindergarten. The children were delighted to watch as the large Canadian goose with its black, white and brown plumage, waddled about their outdoor area.

The kindergarten decided to contact the SPCA, but they can only help if an animal is obviously injured.

"We could see no injury - though it was curious that the goose didn't fly away when faced with all our tamariki," says Catherine.

Next, they contacted the Christchurch City Council, but they could only help if it was a wayward sheep, pig or cow!

The only other option was to encourage the goose to get itself back to its own whanau.

"Eventually, the goose was herded out of the gate and into Avonhead Park, so the children could continue to play outside, as it had become quite territorial," says Catherine.

The tamariki then spent some time keeping an eye out as the goose explored the cemetery next door.

Who knows what will turn up to intrigue the children next?

QUICK READ

Everyday at a Kidsfirst kindergarten you'll see something new. For the tamariki at Kidsfirst Hawthornden - it was a goose.
KIDSFIRST KINDERGARTENS ARE A NOT FOR PROFIT ASSOCIATION THAT HAS DEVELOPED AND MAINTAINED KINDERGARTENS IN CHRISTCHURCH, CANTERBURY AND ON THE WEST COAST FOR OVER 100 YEARS - AS THE PLACE LOCAL KIDS COME TO LEARN, PLAY AND HAVE FUN.