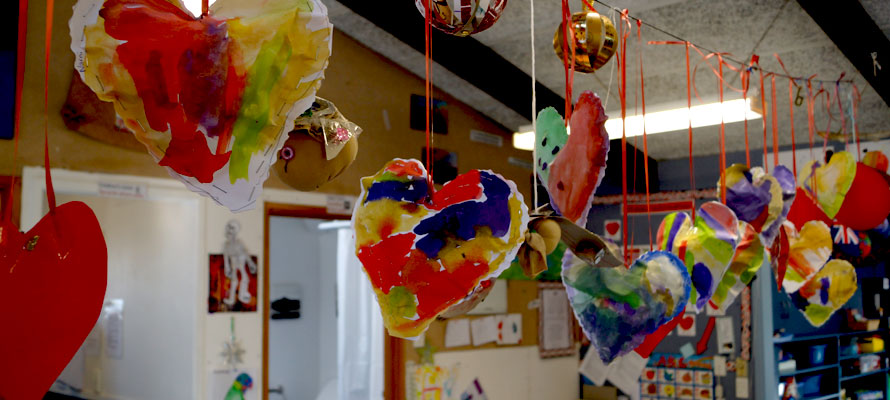 | | | |
| --- | --- | --- |
| | | Showing aroha for the community, Kidsfirst Terrace have been encouraging a healthy lifestyle and smart choices with a Heart Awareness fundraiser and learning topic. |
OUR TOP STORIES:

NEWS FROM AROUND

CENTRAL OTAGO

A healthy lifestyle through nutritious food, exercise and a big dose of fun is how Kidsfirst Terrace's children are setting themselves up for a long, vibrant life.

The kindergarten held a Heart Awareness fundraiser, decorating the kindy space with red paintings, balloons and heart-shaped papier mache creations to inspire whānau and visitors.


And, on top of everything, including delicious wraps for those involved, and a wonderful community spirit, there was enough left over for a good donation to the cause.

ABOVE: Even serious topics can be bright, colourful and fun. The kindergarten looks fabulous in its hearts - reflecting the heart of everyone involved.


QUICK READ

Kidsfirst Terrace fundraised for the Heat Foundation and promoted healthy choices for the children and their families.
KIDSFIRST KINDERGARTENS ARE A NOT FOR PROFIT ASSOCIATION THAT HAS DEVELOPED AND MAINTAINED KINDERGARTENS IN CHRISTCHURCH, CANTERBURY AND ON THE WEST COAST FOR OVER 100 YEARS - AS THE PLACE LOCAL KIDS COME TO LEARN, PLAY AND HAVE FUN.