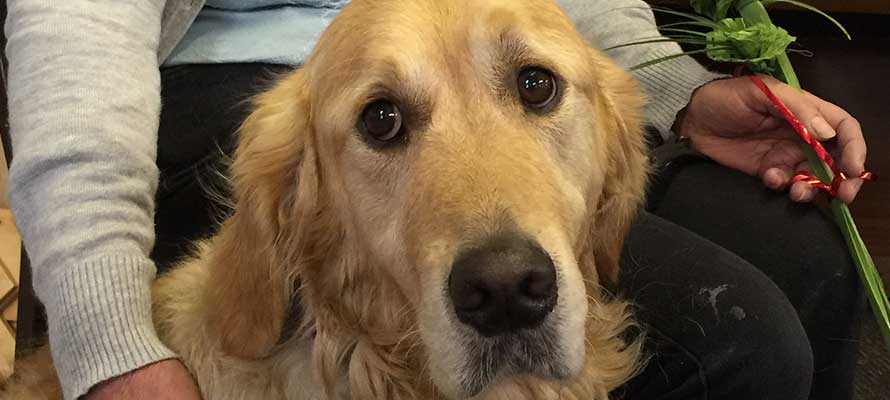 | | | |
| --- | --- | --- |
| | | Kidsfirst Hei Hei kindergarten gets visit from Fletcher - a gorgeous golden retriever Blind Foundation Guide dog... |
OUR TOP STORIES

NEWS FROM AROUND

CENTRAL OTAGO

Not only wonderful companions, Blind Foundation Guide Dogs allow vision impaired people the freedom and independence to get around safely and with confidence.

Kidsfirst Hei Hei Teacher, Niki Maritz, has a friend who works for the Royal New Zealand Foundation for the Blind. Word went out to the community they needed support collecting empty bread bags to use as doggy bags, as the families who train guide dogs, had nearly run out.

"So I appealed to our kindergarten whānau to please bring in their bread bags and the response was wonderful. A few of our families work for a local bakery and brought in a whole lot," says Niki.

Due to the fantastic response, and to say thank you for their bag contribution, Kidsfirst Hei Hei kindergarten was rewarded with a visit from a lovely lady called Petronella, who does school visits with her adorable guide dog, Fletcher.

Fletcher was just gorgeous - soft brown eyes, black nose and beautiful curls of golden yellow fur - and sporting a smart black and white harness to boot.

Petronella explained how Fletcher helps her to cross the street, walk through the mall and he even goes on the plane with her when she travels.

"The children really loved the dog and asked some great questions. We handed over more bread bags that had been collected and also gifted Petronella some puti puti (woven flax flower) as a thank you for her visit," adds Niki.

Asked what the children remembered about the dog visit one of the girls, Ava said "That he helps her."

QUICK READ

Kidsfirst Hei Hei had a visit from Petronella and her Guide dog, Fletcher to say thank you for collecting empty bread bags, for use by families training the dogs.

Read More about Blind Foundation Guide Dogs from their website...

The Blind Foundation carefully trains its dogs so they can negotiate common hazards like traffic with ease. They also learn to take the unexpected in their stride, and to travel on buses and trains with confidence.

Intelligent and friendly, guide dogs will learn where their handler (a person who is blind or has low vision) regularly goes. That way they can confidently lead the person with little direction.

A guide dog can lead their handler anywhere. Workplaces, bus stops or shops, even planes and restaurants – a guide dog has 'access all areas'.
KIDSFIRST KINDERGARTENS ARE A NOT FOR PROFIT ASSOCIATION THAT HAS DEVELOPED AND MAINTAINED KINDERGARTENS IN CHRISTCHURCH, CANTERBURY AND ON THE WEST COAST FOR OVER 100 YEARS - AS THE PLACE LOCAL KIDS COME TO LEARN, PLAY AND HAVE FUN.