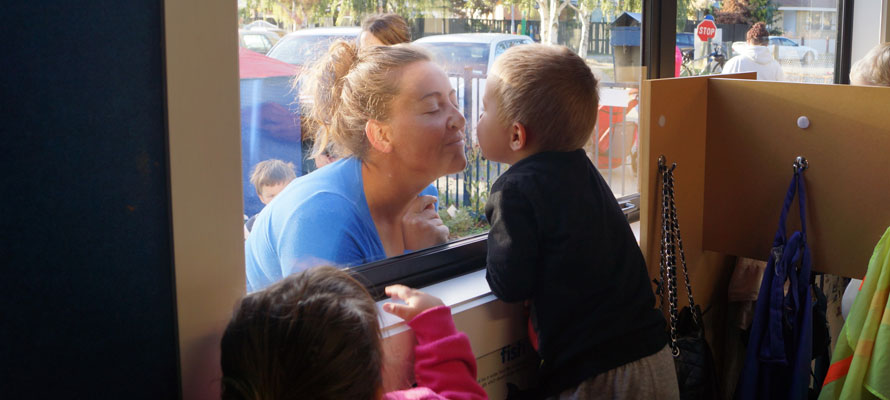 | | | |
| --- | --- | --- |
| | | When you say goodbye, that's not always the last thing that happens at Kidsfirst Cromwell... |
OUR TOP STORIES

NEWS FROM AROUND

CENTRAL OTAGO

Close community links - connecting children to whānau and the kindergarten to the local community - are important at Kidsfirst. And what better way than a playful morning ritual to join us together?

At Kidsfirst Cromwell, when family and

whānau walk out of the door of the kindergarten, that's not the last goodbye of the morning.

The children race over to the window overlooking the walking path from the carpark to the front door, where they can make one last silly face at mum or dad - starting everyone's day off with a giggle.

Kidsfirst Cromwell's goodbye window is the perfect height for children to pull up a chair to stand on and get a view of the happenings outside.

Sometimes it's a race between children and whānau to be first at the window to wave. Sometimes magical games of peek-a-boo or funny faces are shared. Or sometimes it's a waiting game for the children as whānau get caught up chatting between the door and the window.

Every day it connects children to their whānau and the community. They both get a few extra minutes of interaction as their day begins, plus it's a great observational spot linking the indoors to the outdoors, and the kindergarten to the local neighbourhood.

The goodbye window has comforted generations of Kidsfirst Cromwell children over the years. So much so that it has become a favourite pastime at the kindergarten.

Head Teacher, Wendy Scully says, "...our kindergarten was undergoing some alterations recently, but we had to make sure the builders provided access to the window at all times."

"Being able to physically see their parents go out of sight for the day provides the children with comfort and helps grow a sense of independence. It's a transition into their morning and settles them in to start their busy day," she added.

What a great way for whānau to engage with the kindergarten, in a way that fits around their daily activities but brings the joy of a new day to all!

QUICK READ

Silly faces and mimes through Kidsfirst Cromwell's goodbye window start off children and whānau's day with a giggle.

The window overlooks the path from the carpark to the kindergarten's front door, so children can observe whānau coming and going, and sneak in one last fun interaction before the day's activities begin.
KIDSFIRST KINDERGARTENS ARE A NOT FOR PROFIT ASSOCIATION THAT HAS DEVELOPED AND MAINTAINED KINDERGARTENS IN CHRISTCHURCH, CANTERBURY AND ON THE WEST COAST FOR OVER 100 YEARS - AS THE PLACE LOCAL KIDS COME TO LEARN, PLAY AND HAVE FUN.