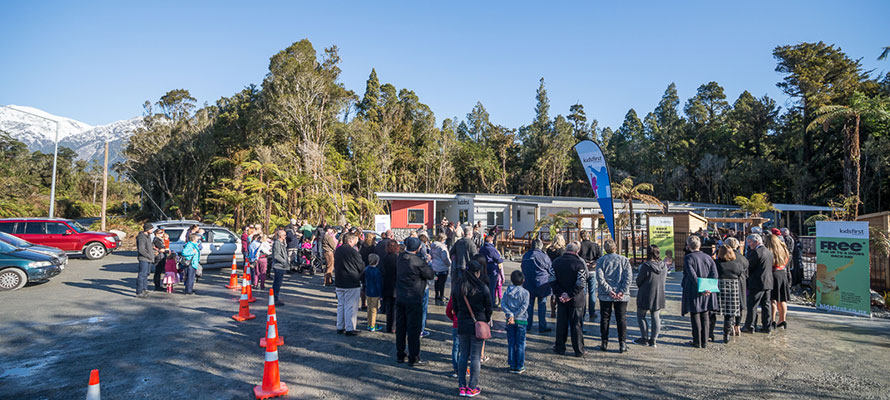 | | | |
| --- | --- | --- |
| | | Kidsfirst Glacier Country opened its doors to children, whānau and staff for the first time in July. The Early Learning Centre was many years in the planning and building, and those who turned out to celebrate its arrival were not disappointed. |
OUR TOP STORIES:

The scenic and spacious centre is nestled in rainforest on the grounds of the local Franz Josef School. Principal Janet Ristow has been especially supportive of the project, and for what it means for education in the South Westland area.

Kidsfirst Glacier Country was built in Christchurch, delivered over to the West Coast on nine different trucks over three journeys, and assembled on the grounds with a playground landscaped to complement it.

Staff, community members, whānau and supporters of Kidsfirst Glacier Country all gathered to celebrate the official opening of the building. There was a blessing by Makaawhio iwi, and West Coast-Tasman MP Damien O'Connor officially opened the building.

Mr O'Connor spoke about how Kidsfirst Glacier Country will not only boost educational outcomes but economic success in the glacier area.

The new Franz Josef centre, like all that Kidsfirst operates, will work within traditional Kidsfirst values. The not-for-profit ethos and values base, commitment to the highest quality teaching and educational programme, community links, parent connection opportunities and 'kiwiness' will form the basis of everything Kidsfirst Glacier Country does.

ABOVE: Kidsfirst Board Chair Carolyne Grant (L) planting a hebe with Kidsfirst Chief Executive Sherryll Wilson. The hebe is Kidsfirst's symbol of resilience.

Kidsfirst Kindergartens' philosophies and values will be applied to longer and more flexible hours for working parents, and short-term childcare for tourists or seasonal workers in the area as well.

It's the best of both worlds: the traditional preschool experience so many families still want, but with hours and the educational programme updated to suit today's world.

ABOVE: West Coast-Tasman MP Damien O'Connor, Kidsfirst Board Chair Carolyne Grant, Makaawhio upoko Richard Wallace and Kidsfirst Chief Executive Sherryll Wilson.

QUICK READ

The Franz Josef community has been lobbying for an early childhood facility in their area for many years. After Kidsfirst got involved in the project, they have been focused on providing a design that has this community's unique needs in mind.
KIDSFIRST KINDERGARTENS ARE A NOT FOR PROFIT ASSOCIATION THAT HAS DEVELOPED AND MAINTAINED KINDERGARTENS IN CHRISTCHURCH, CANTERBURY AND ON THE WEST COAST FOR OVER 100 YEARS - AS THE PLACE LOCAL KIDS COME TO LEARN, PLAY AND HAVE FUN.