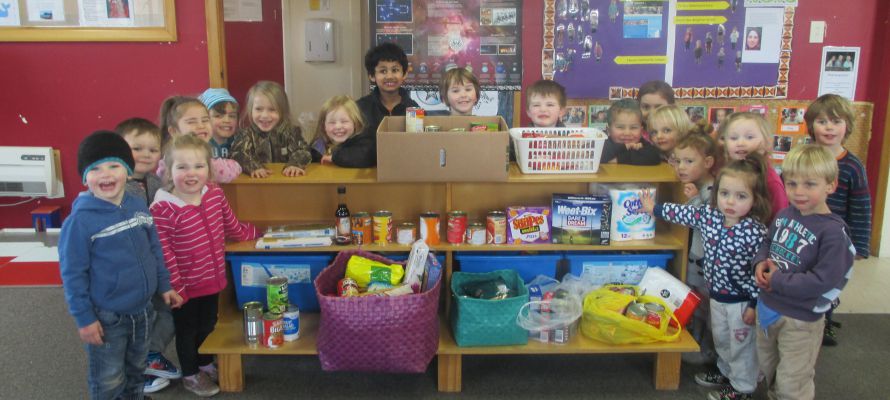 | | | |
| --- | --- | --- |
| | We are very fortunate to have so many inspiring people within our communities who amaze us with their generosity, focus, creativity, energy and commitment. It's nice when we can find ways to say thank you... | |
SOME OF OUR TOP STORIES

From helping to fundraise through a wheelathon or cake bake to weekend working bees, completing a playground or a garden project - we find, time and time again, our communities will come to the party to lend a hand.

Our local communities give so much to our kindergartens that it's great when we can find opportunities to give back too.

During the Port Hills fires, Kidsfirst Wales Street kindergarten Dad Ben (a Christchurch City Council Firefighter) presented the hardworking team with a beautiful thank you card from the children, full of their artwork and appreciation.

"The card really inspired the firefighters and was a welcome relief to look at when coming off the hills for a break," says Ben.

A request from the Blind Foundation to help collect plastic bags for puppy guide dog training (to pick up doggy business) was met with a brilliant response from Kidsfirst Hei Hei.

As a 'thank you' the kindergarten were treated to a visit from an adorable guide dog called Fletcher. What a great way to practice sustainability while helping out the local community!

It was hats off to our neighbourly Kidsfirst Avonhead children who popped next door to surprise Bill with chocolate cupcakes and homemade gifts for his 90th birthday.

Parents comments sum up this kind gesture, "I love this story…being a part of a community is so important…how thoughtful of the children," and, "…wonderful to teach and show children how much joy kindness can bring."

We love to celebrate community, especially when there's a kindergarten connection, such as our 100 year old birthday card to Pauline Valentine.

A Press article that featured Mrs Valentine's 100th birthday milestone also mentioned her help in raising funds to start what is now Kidsfirst Beckenham, back in 1955.

Children were delighted to sing happy birthday to Pauline in person when she visited the kindergarten to say thank you for the birthday card and drawings they had made for her.

Rallying community support to help others goes hand in hand with the kindergarten philosophy.

As part of Matariki celebrations Kidsfirst Nuffield helped teach children about collective responsibility and giving back to their community with food generously donated from kindergarten families for the "Help the homeless" charity.

And at Kidsfirst Parklands, a happy hat project opened up a world of learning opportunities for tamariki. They helped to knit warm, alpaca fleece hats for children in Bangladesh to help ward off the chill of winter snow, where houses were damaged from recent earthquakes and a cyclone in the region.

One child said, "I hope this new friend is cosy in their new hat, and did you know that purple is a great colour to make them happy."

We're more than happy to get behind a good cause, so when the opportunity to buy a beautiful Abel Tasman Beach presented itself - Kidsfirst Cotswold Ave just couldn't let the chance go by.

"As we reflected on our summer holiday memories it was apparent the classic kiwi holiday was still alive - spending time together camping, enjoying the sunshine and splashing in our beautiful oceans," says Teacher, Adele Puddy.

With this in mind, the kindergarten decided they would like to help Duane Major and Adam Gardner's campaign to buy a slice of paradise to be enjoyed by all New Zealanders, instead of going into private ownership with restrictions on access.

It was a gold coin donation to dress up for the day at kindergarten. Children were decked out in bright beach clothes, wetsuits, swimwear, mermaid and shark costumes, pui pui's, sunglasses, swandri's and gumboots.

"The families all got right behind us and supported the day by donating ingredients, dressing up their children, buying cake and donating big," says Adele.

They raised a total of $191.80. Duane and Adam applauded Kidsfirst Cotswold Ave's efforts with a big shout on their Facebook page.

What a great way to keep Aotearoa family holiday adventures alive, plus a fantastic gift for our children and for future generations to enjoy.

Even after the kindergarten years, older children continue to have fond memories of their time there.

Central Otago's Kidsfirst Cromwell have a brand new, bright red fire station-inspired playhouse. It's thanks to four creative Year 11 former Kidsfirst kindy kids who designed and built it as part of a national 'Build Ability' competition.

"The thing that's really special," explains Head Teacher, Wendy Scully, "is that three of these wonderful young people went to our kindergarten!"

"We felt so privileged that this talented group have chosen us to gift the firestation to, what a fantastic example of giving back to the community they've grown up in," says Wendy.

The student's are thrilled to see the fire station going to their old stomping ground - somewhere they know it will be well used and loved.

Encouraging our children to feel a valued and proud part of their community is what kindergarten is all about.

We are so very proud that our kindergartens are places where children, teachers, parents and community are so engaged with each other - we love what we do here at Kidsfirst - and it shows!
Information including that about fees, services and promotional activities were correct at the date of publication of news stories but may since have changed. Please check with us to ensure information is current.