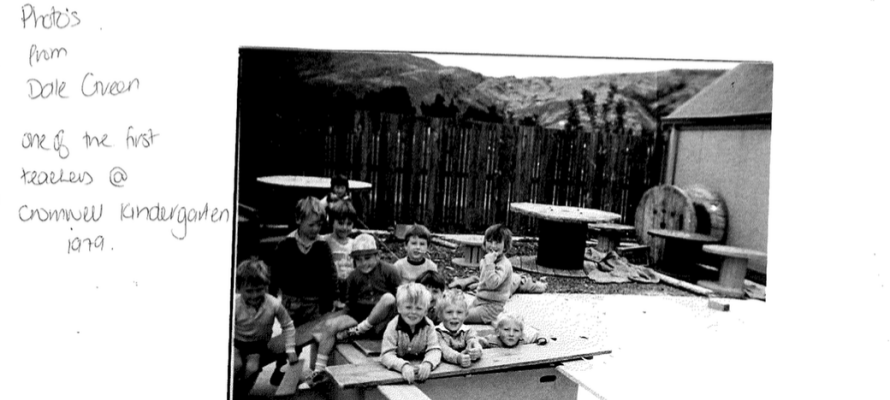 A proud kindergarten heritage.
Kidsfirst Kindergartens has a proud heritage that dates back over 100 years and our network is continually evolving. In 2016, we welcomed seven Central Otago kindergartens - Alexandra, Cromwell, Frankton, Hawea, Maniototo, Terrace and Wakatipu - to our Kidsfirst family.
FIND OUT WHY WE'RE JUST BETTER BECAUSE...

Our Central Otago kindergartens dusted off their old photo albums to share a few gems from the past.

Kidsfirst Cromwell opened its doors to children and families in 1979. Don't you just love the summertimes wheelbarrow and sack races at their inaugural Christmas party that same year!

And in complete contrast - a chilly winter shot with snowfall completely blanketing the playground.

In 2004/2005, a major revamp of the Cromwell kindergarten inspired some serious fundraising with helpers sorting a phenomenal 1600 dozen (that's over 19,000) cheese rolls to sell!

Fresh from the archives at Kidsfirst Alexandra, the children's TV show Sesame Street, inspired the kindergarten float at the Alexandra blossom festival in the spring of 1983.

In 1981, the New Zealand Air Force touched down for a visit to Central Otago. Terrace kindergarten teachers and children (below) got along to check it out.

Kidsfirst Maniototo kindergarten has a much more recent history. It was opened in Ranfurly in May 2012, thanks to the hard work, tenacity and can-do attitude of a group of twelve amazing ladies.

Seeing a real need for a quality early childhood education option for local young families in the Maniototo district, they banded together to form an establishment committee in late 2008 and are so proud of the difference they made to their local Ranfurly community.

Fundraising efforts to help establish a kindergarten in the Maniototo district.

.

Kidsfirst Kindergartens
Head Office, 43 Birmingham Drive, Middleton, Christchurch 8024
+64 3 338 1303email: questions@kidsfirst.org.nz
Postal Details: Kidsfirst Kindergartens, PO Box 8089, Christchurch 8440
KIDSFIRST KINDERGARTENS ARE A NOT FOR PROFIT ASSOCIATION WITH OVER 70 KINDERGARTENS AND EARLY LEARNING CENTRES COVERING CHRISTCHURCH, CANTERBURY, CENTRAL OTAGO, BANKS PENINSULA AND THE WEST COAST - AND HAS DONE SO FOR OVER 100 YEARS
- AS THE PLACE LOCAL KIDS COME TO LEARN, PLAY AND HAVE FUN.