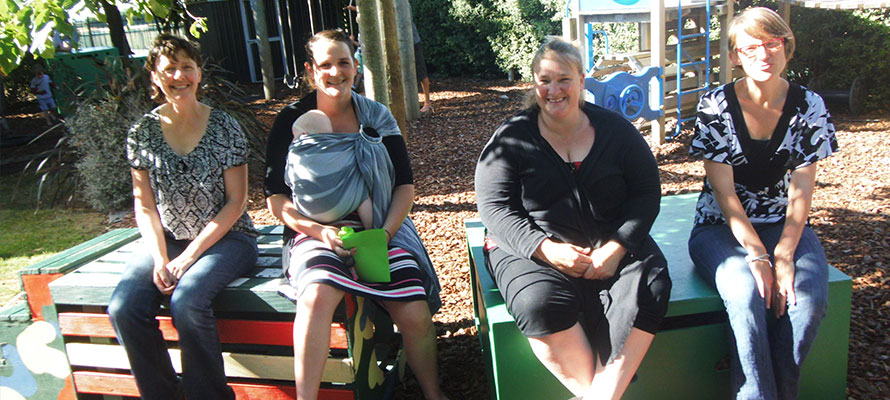 | | | |
| --- | --- | --- |
| | | At the beginning of the year, it seems to be almost a tradition for kindergartens to welcome parents into their whānau with a fish'n'chip evening. |
OUR TOP STORIES:

The appeal is obvious: crunchy chips slathered with tomato sauce, salty fish wrapped in crinkly paper, and a summer's evening spent at the kindergarten, getting to know others in your neighbourhood.

ABOVE: Enjoying the evening sun at Kidsfirst Templeton.

Kidsfirst Templeton had a great night together, with many families coming out to enjoy the weather and relax together. Those whose children had been at the kindergarten for a while were able to catch up on holiday news from the Christmas break.

"It is exciting to see so many of our families taking time out of their busy schedules to build a sense of community. This is a great way to build relationships with our families," says Head Teacher, Trish Ralston.

"We had a fish and chip evening because we wanted to provide an occasion to gather as a community, and to strengthen the connections with our whānau. Our hope is to see greater inclusion of everyone, for the benefit of our learning community here in New Brighton," says Kidsfirst Nuffield teacher Rachel Ryan.

ABOVE: Fish and chip whānau evening at Kidsfirst Nuffield.

QUICK READ

How do Kidsfirst kindergartens often start the year and welcome their families? The quintessential Kiwi way: with a fish and chip evening, of course!
KIDSFIRST KINDERGARTENS ARE A NOT FOR PROFIT ASSOCIATION THAT HAS DEVELOPED AND MAINTAINED KINDERGARTENS IN CHRISTCHURCH, CANTERBURY AND ON THE WEST COAST FOR OVER 100 YEARS - AS THE PLACE LOCAL KIDS COME TO LEARN, PLAY AND HAVE FUN.