Cotswold Avenue
Enrolment or waitlist enquiries
62 Cotswold Ave,
Bishopdale,
Christchurch
Kindy webpage
www.kidsfirst.co.nz/Cotswold
Welcome
Kia Ora
Our Teachers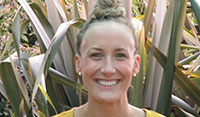 Adele Puddy
Head Teacher
Diploma of Teaching (ECE)
Post Graduate Diploma Specialist Teaching (Early Intervention)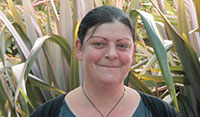 Kirstyn Cook
Teacher
Bachelor of Teaching and Learning (ECE)
Shabana Shareef
Teacher
Bachelor of Teaching and Learning (ECE)
Post Graduate Diploma of Education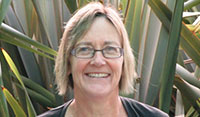 Helen Davey
Teacher
Bachelor of Teaching and Learning
NZ Free Kindergarten Union Diploma

Our Professional Leaders are an important member of our teaching team. Based at Kidsfirst Head Office, they are on-site regularly to observe our programme, give us feedback and professional support, and encourage us toward continuous educational improvement. Please feel free to talk with them about your child's kindergarten/centre experience...
Our PL is
Jeanne Williams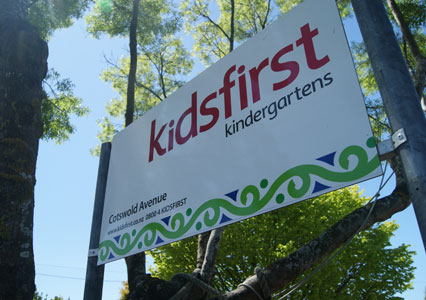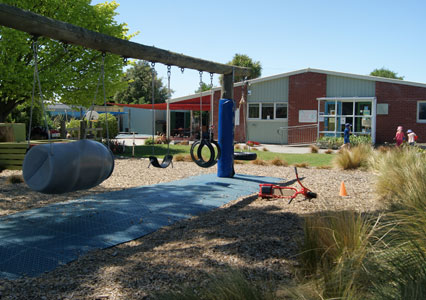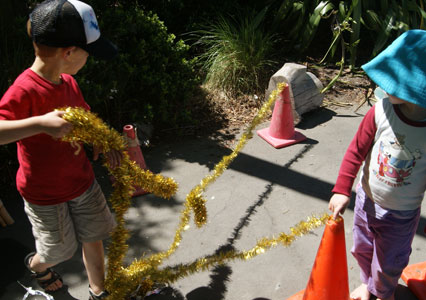 Our Hours Are...
| Session | Mon | Tue | Wed | Thu | Fri |
| --- | --- | --- | --- | --- | --- |
| Full-day | 8:45-14:45 | 8:45-14:45 | 8:45-14:45 | 8:45-14:45 | 8:45-14:45 |
| Morning | 8:45-11:45 | 8:45-11:45 | 8:45-11:45 | 8:45-11:45 | 8:45-11:45 |
We are able to talk to parents and caregivers most of the time, so please make an appointment if you'd like to do this. EMAIL US HERE
Our Session Times
Your child can come to our kindergarten for up to 6 hours a day, Monday to Friday, during our 4 kindergarten terms.
These terms echo the terms your child will have when they start school.

You can read more here about what's been happening in our archive of stories about Kidsfirst Kindergartens, the fun we have, the processes and learning outcomes that result and why we're such a great start for your child.
KIA ORA 
• 
TALOFA LAVA 
• 
MALO E LELEI 
• 
FAKALOFA LAHI ATU 
• 
NAMASTE • KIA ORANA NISA BULA • TALOHA NI 
•
N
I 
HAO •
NAU MAI, TAUTI MAI, HAERE MAI • WELCOME!
You will find our kindergarten in the heart of Bishopdale, a spacious, leafy place right next door to Cotswold Primary School. Tamariki here at Kidsfirst Kindergartens Cotswold have freedom to explore, connect with other children and learn through play.  Visitors often comment on the calm, relaxed yet busy environment they see as they come into the kindergarten.  All around you will see children at work alongside each other, making choices for play that engage them with the people, the places and the things of our environment and community.  We offer an inclusive programme that encourages risk-taking and supports the emergent interests of our tamariki.
Children aged 2-5 years can access a range of resources at Kidsfirst Kindergartens Cotswold
that are carefully and intentionally presented to ignite thinking and exploration in a play-based, child-led atmosphere. Learning occurs in all spaces at the child's pace, acknowledging the mana, wairua and mauri our tamariki bring when they come to us. Tamariki are encouraged to be mindful of and inspired by the world around them, and respectful of the environment they play and learn in.
Outside at Kidsfirst Cotswold we have a large, leafy big backyard - ideal for curious learners and creative imaginations.  There's a variety of challenging climbing and physical play equipment inviting active exploration.  Large play spaces and equipment specially designed to support children's physical growth and development are features.  Tamariki choose from and learn to use a range of real resources such as saws, hammers, nails, gardening equipment, spades and shovels.  In using this equipment, they learn about managing risk and making safe choices for meaningful play.   There's space for running, jumping, climbing, swinging and exploring as well as peaceful places to connect with nature, and make sense of our natural world.
Rongo, Haumia, and Tawhirimatea, stand proud in our garden reminding us of our commitment to educate ngā tamariki about their contribution to the natural world.   We use innovative methods to teach our children about sustainable practices and becoming citizens for positive action, caring for all things living, and being kaitiaki (guardians) of our environment.
At Kidsfirst Kindergartens Cotswold we are all about the people – tamariki, whānau, kaiako, and community – all helping children to grow up as competent and confident individuals, strong in their identity and with a passion to be lifelong learners.   We are a community of learners where adults and children learn together (Ako me te Tuakana Teina) and where links between kindergarten and home are valued.
We have an 'open door' approach - whānau are welcome to stay at any time. The notion of community and connectedness is important here, it's at the heart of what we do. We value the relationships we build with our whānau/families, and look forward to making new connections, embracing the multiculturalism and diversity of our community.  Family and whānau spend lots of time in our kindergarten and are always welcome to contribute in whatever way they feel comfortable. We encourage and value family and whānau coming in to share their skills and interests with the children to extend their learning. A real sense of Whanaungatanga (family connection) is felt here.
You'll often see us out and about exploring the local community, making connections and learning more about our place in it. Visits to our local schools provide opportunities for the children to develop an understanding of the school setting, and give an insight into the expectations and routines to support their transition. 
Our kindergarten operates for six hours each day, from 8.45am – 2.45pm. This works really well if you have older children going to school as you can do the drop offs and pick-ups at the same time. 
We would recommend that you enrol for at least two full days –building up to five days.  This gives our teachers time to get to know your child and build a relationship, and gives some consistency around supporting their learning.  It's hard for our teachers to do this with just a few hours here and there.
Come in any time, we are very proud of our unique learning environment and would love to show you around.  Kidsfirst Kindergartens Cotswold is a wonderful place to learn!