Queenspark
Enrolment or waitlist enquiries
228 Queenspark Drive,
Parklands,
Christchurch
Kindy webpage
www.kidsfirst.co.nz/Queenspark
Welcome
Kia Ora
Our Teachers
Jo Stewart
Head Teacher
Diploma of Teaching (ECE)
Cherie Johnson
Teacher
NZ Free Kindergarten Union Diploma
Karen Cameron
Teacher
Bachelor of Teaching and Learning (ECE)
Helena Pope
Teacher
Bachelor of Teaching and Learning (ECE)
Denise Starr
Teacher
Bachelor of Teaching (ECE)

Our Professional Leaders are an important member of our teaching team. Based at Kidsfirst Head Office, they are on-site regularly to observe our programme, give us feedback and professional support, and encourage us toward continuous educational improvement. Please feel free to talk with them about your child's kindergarten/centre experience...
Our PL is
Catherine Gerslov-Wright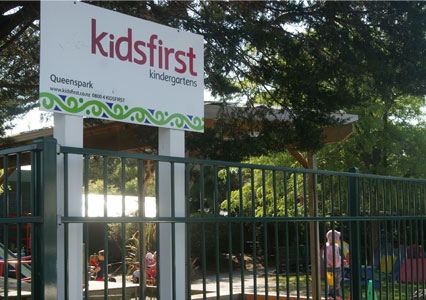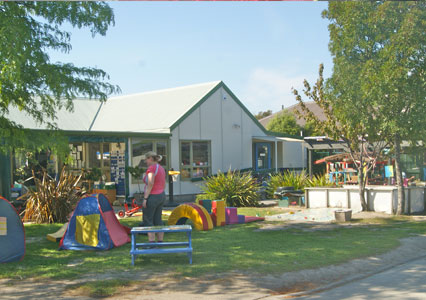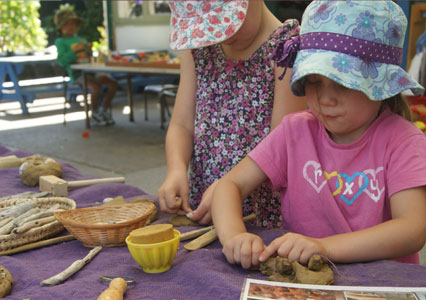 Look for the tall trees and behind them you will hear and see engaged children aged 2 – 5 years enjoying our large and leafy outdoor space. Tamariki here have freedom to explore, connect with other children and learn through play. Visitors often comment on the calm, relaxed, yet busy environment they see as they come into the kindergarten. All around you will see children busy at work alongside each other, making choices for play that engage them with the people, the places and the things of our environment and community.
Our Hours Are...
| Session | Mon | Tue | Wed | Thu | Fri |
| --- | --- | --- | --- | --- | --- |
| Full-day | 8:45-14:45 | 8:45-14:45 | 8:45-14:45 | 8:45-14:45 | 8:45-14:45 |
| Morning | 8:45-12:15 | 8:45-12:15 | 8:45-12:15 | 8:45-12:15 | 8:45-12:15 |
We are able to talk to parents and caregivers most of the time, so please make an appointment if you'd like to do this. EMAIL US HERE
Our skilled and experienced teaching team is proud to provide a programme where we foster a strong sense of belonging. We do this by encouraging children to show Manaakitanga - caring for each other, and Kaitiakitanga - caring for our environment. Kaiako/teachers work together with each other, children and whānau to design a rich and responsive learning environment, thoughtfully laid out and providing areas for group interactions or individual play and learning – lead by the children's interests. We have a fun-loving atmosphere where there's lots of laughter throughout the day.
At Kidsfirst Kindergartens Queenspark we encourage our tamariki to be self-directing, creating their own challenges and being supported to achieve these. Children are able to choose when they would like to have their Kai (food) throughout the day, and this is often enjoyed in small groups.
We often visit Queenspark school, spending time in the junior classrooms, and attending concerts and celebrations. The senior students from Queenspark Primary School visit twice a week to work with our children and to share their learning, we love it when the kapa haka group comes over to perform! Our learning experiences go beyond the Kindergarten gate, and you'll often see us out and about on walks with the tamariki to explore the local environment.
We have an 'open door', approach, and whānau are welcome to stay at any time. Community and connectedness is important here - it's at the heart of what we do. Building trusting, caring and respectful relationships with whānau/families over time is key to our success in supporting and facilitating children's learning. Parents and whānau contribute in many ways, including discussions about their aspirations for children, spending time with us in session, sharing their knowledge and strengths with kaiako/teachers and children.
The language, culture and identity of our families is highly respected and valued - whānau/ families are viewed as significant partners, and are included in our early learning journey. We have a parent committee who support us by fundraising to enhance our learning resources and environment. But we understand the pressures on working parents too – there is no pressure for you to stay. You can be involved whenever it suits you.
Our kindergarten operates for six hours each day, from 8.45am – 2.45pm. This works really well if you have older children going to school as you can do the drop offs and pick-ups at the same time.
We would recommend that you enrol for at least two full days – building up to five days. This gives our teachers time to get to know your child and gives consistency around supporting their learning. It's hard for our teachers to do this with just a few hours here and there.
Come in any time – we'll show you around and make you welcome!