Diamond Harbour
Enrolment or waitlist enquiries
13 A Hunters Rd, Diamond Harbour,
RD 1, Lyttelton
Kindy webpage
www.kidsfirst.co.nz/diamondharbour
Welcome
Kia Ora
Our Teachers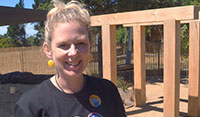 Rebecca Thomas
Head Teacher
Bachelor of Teaching and Learning (ECE)
Charis Sweeney
Teacher
Bachelor of Science
Graduate Diploma of Teaching (ECE)
Annya Boyd
Teacher
Graduate Diploma of Teaching and Learning (ECE)
Penny Julian
Teacher
Bachelor of Teaching (ECE)
Gemma Veasey
Teacher
Bachelor of Teaching (ECE)
Deb Rees
Teacher
NZ Free Kindergarten Union Diploma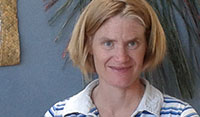 Kirsten Mackay
Teacher
Bachelor of Arts
Graduate Diploma of Teaching (ECE)

Our Professional Leaders are an important member of our teaching team. Based at Kidsfirst Head Office, they are on-site regularly to observe our programme, give us feedback and professional support, and encourage us toward continuous educational improvement. Please feel free to talk with them about your child's kindergarten/centre experience...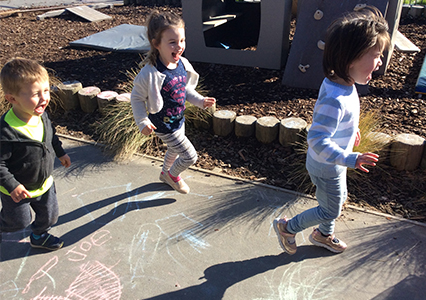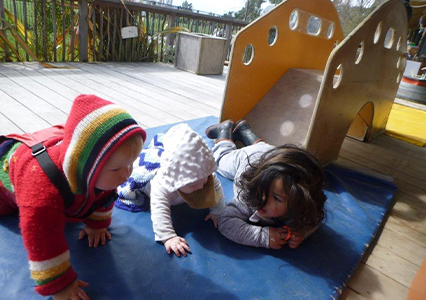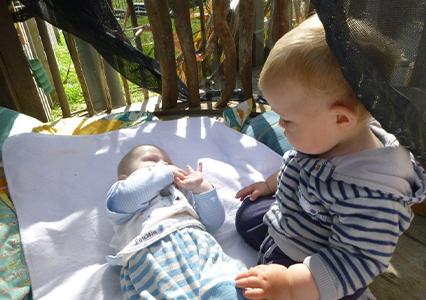 Our Hours Are...
| Session | Mon | Tue | Wed | Thu | Fri |
| --- | --- | --- | --- | --- | --- |
| Full-day | 9:00-15:00 | 9:00-15:00 | 9:00-15:00 | 9:00-15:00 | 9:00-15:00 |
| Morning | 9:00-13:00 | 9:00-13:00 | 9:00-13:00 | 9:00-13:00 | 9:00-13:00 |
| Afternoon | 13:00-15:00 | 13:00-15:00 | 13:00-15:00 | 13:00-15:00 | 13:00-15:00 |
We are able to talk to parents and caregivers most of the time, so please make an appointment if you'd like to do this. EMAIL US HERE

KIA ORA
•
TALOFA LAVA
•
MALO E LELEI
•
FAKALOFA LAHI ATU
•
NAMASTE • KIA ORANA NISA BULA • TALOHA NI
•
N
I
HAO •
NAU MAI, TAUTI MAI, HAERE MAI • WELCOME TO OUR PLACE
DIAMOND HARBOUR - TE WAIPAPA
You will find our kindergarten in Diamond Harbour, overlooking the hills of Lyttelton Harbour. We feel very lucky to be in such a wonderful environment and our curriculum reflects how we learn, grow and explore our unique community. We climb trees, get muddy, we garden, visit Rāpaki - our local marae, watch the lambs and feed the chickens and explore our wider area. We learn through play, inquiry, and challenges - and we have lots of fun!
Ko te Ahu Patiki te maunga
Ko te Whakaraupō te moana
Ko Horomaka te mana
Ko matou te Kidsfirst o Te Waipapa
Haere mai, haere mai, haere mai!
Mount Herbert is the mountain
Lyttelton Harbour is the sea
We belong to Banks Peninsula
We are Kidsfirst Diamond Harbour
Welcome, welcome, welcome!
Whānau are always welcome to a cup of tea, come and play and spend time with their tamariki. We know that a sense of belonging for our tamariki is further supported when they see that their whānau time and contributions are valued. We feel very lucky that we have whānau and visitors who regularly spend time with us to bake, read, visit the school, plant, create and share their knowledge and skills. Kanohi-ki-te-kanohi, face-to-face relationships are extremely valuable to us here and these happen daily in order to respond to and support the learning and needs of our tamariki.
Diamond Harbour School is an important part of our learning community and we really value the relationships that we share. Regular visits between settings provide us with strong foundations to support transitions to school and offer highly valued opportunities for ako, mixed aged and reciprocal learning.
Our responsibility is to facilitate children's learning and development through thoughtful and intentional pedagogy, this means that our fully qualified kaiako have a wide range of capabilities. These include being knowledgeable about:
-How our programme honours Te Tiriti o Waitangi
-Children's learning and development
-Theories that underpin effective pedagogy in Te Whāriki
-Play based curriculum and pedagogy
-How to plan and enact curriculum that is motivating, enjoyable and accessible to all tamariki
-Integrating domain knowledge such as maths and arts knowledge into the curriculum
-Supporting cultural and linguistic diversity in order to promote an inclusive environment (Ministry of Education, 2017, pg 59)
OUR MĀNUKA ROOM. Ages 0-2yrs
He iti, he iti mānuka
Although small it is mānuka.
Infants, toddlers and their families are warmly welcomed into their own, calm place by our fully qualified teachers. With great child: teacher ratios and a small overall group size, infants and toddlers can receive the individual attention they need. Our teachers understand the special ways of our youngest children and respect the rhythm and needs of each child.
Children can explore, independently move through, and find wonder in our thoughtfully created inside and outside spaces. Through teacher-guided play, they develop skills to co-operate with others and express their emotions in peaceful ways. As valued members of our kindergarten community our tamariki meet up with their bigger friends regularly, creating plenty of opportunities for ako- shared learning.
He taonga te mokopuna, kia whāngaia, kia tipu, kia rea.
A child is a treasure, to be nurtured, to grow, to flourish.
OUR KAHIKATEA ROOM. Ages 2-5 years.
E tū kahikatea
Hei whakapae ururoa
Awhi mai awhi atu
Tātou tātou e
Stand like the kahikatea tree
To brave the storms
Embrace and receive each other
We are one together
In the Kahikatea Room our qualified kaiako/ teachers work hard to ensure that our tamariki view themselves as confident and capable learners. Tamariki are given lots of time and space to make choices in their day and to play, explore and make sense of the world in their own way.
We provide open ended opportunities, beautiful spaces, natural resources and experiences that children can revisit over time. Kaiako introduce provocations and use intentional teaching strategies to explore curriculum areas such as literacy, numeracy, scientific thinking, the arts, and a wide ranges of physical and pro-social skills. We recognise that each child is unique and develops these skills and abilities in their own time and with the care and guidance of the special adults in their life.
The programme planning is carefully considered, flexible and has a focus on both individual learning goals and shared learning that is assessed over time. We have a strong focus on manaakitanga and social competency that promotes positive relationships, ako and tuakana/teina relationships.
Aroha tatou ki te takaro!
We love to play!
Kidsfirst Diamond Harbour opened in 2015 and was the first that Kidsfirst had built in many years, and so we took the opportunity to design and create a building made out of locally-sourced materials that would be as environmentally friendly as possible. The award-winning architecture is designed to lend itself to the natural landscape it sits on, with transitional learning environments created through a range of adaptable internal and external spaces.
Our environment has a focus on natural and renewable building materials: Cedar cladding with no chemical treatment; Low VOC (volatile organic compound) paints; Formaldehyde-free plywood in the joinery; The linoleum floor has a high recycled content (made of 97% raw materials); Solar panels on the roof; We are efficiently heated with underfloor heating and sheep's wool-blend insulation in the walls.
The building is aiming to be net-zero energy, with any surplus that is generated being donated back to Diamond Harbour School. Normally the power goes back to the grid with money being earned for it, but this energy generation is a way for the kindergarten to give back to the school. There is also a multi-functional meeting room, shared by parents, whānau, staff and the Diamond Harbour community.
OUR VISION AND CURRICULUM PRIORITIES
Whanaungatanga
We foster meaningful and reciprocal relationships with:
-tamariki and whānau
-our local and wider communities
-Diamond Harbour school
-our local iwi.
We will support, nurture and guide one another.
Manaakitanga
Our kindergarten is a place of welcome and support.
Our individual mana is nurtured and protected.
Our social competency strategies support a place of wellbeing and belonging.
Ako
Teaching and learning is lifelong
There are shared opportunities for all teaching and learning
The roles of teacher, learner and leader are interchangeable.
Individual contributions, knowledge and strengths are valued.
Relationships are reciprocal and responsive.
Kotahitanga
We work collaboratively in order to develop a shared sense of purpose.
We work in partnership with whānau as we value their contributions and consultation.
We reflect the Kidsfirst values; whānau, engagement, inspiring, passionate, proud.
Kaitiakitanga
We foster and support lifelong sustainable practices.
We treasure the stories and history of our land.
Our kindergarten operates Monday to Friday, from 9.00am – 3.00pm – and through the term breaks.
We would recommend that you enrol for at least two days per week – building up to five days. This gives our teachers time to really get to know your child and gives consistency around supporting their learning.
Come in any time – we'll show you around and make you welcome!
OPEN DURING TERM BREAKS
Yes! We're still operating during the traditional term breaks, so your child can still come to us during this time.