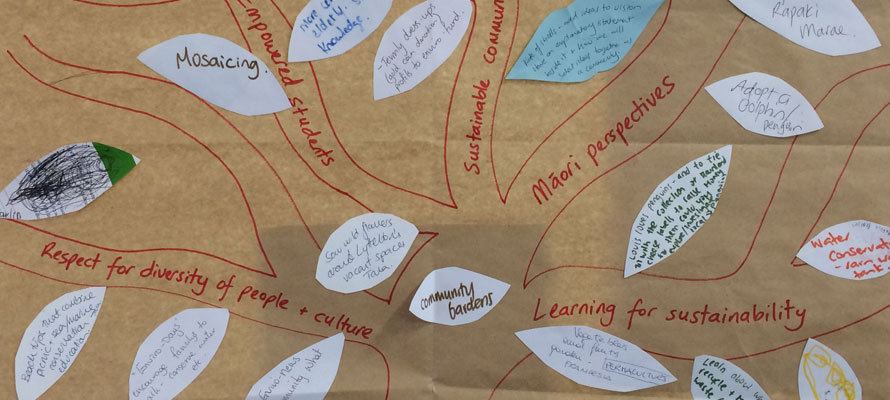 | | | |
| --- | --- | --- |
| | | The Enviroschools Programme is a unique sustainability journey that many early childhood education centres and schools in New Zealand are now on. Kidsfirst has been involved for many years and has been helping to show the way in early childhood... |
SOME OF OUR STORIES

Enviroschools is a network that reaches 240,000 children and young people through 30% of New Zealand's schools and kura.

The Enviroschools kaupapa is based on five guiding principles:
empowered students,

learning for sustainability,
Māori perspectives,
respecting diversity
and sustainable communities.

The outcomes go well beyond formal education and include environmental improvement, reduction in anti-social behaviour, youth leadership, Māori achievement and community engagement.

Only 15 early childhood centres in Canterbury are Enviroschools, and Kidsfirst Kindergartens are proud to say that they have four kindergartens involved in the programme for 2014.

Kidfirst Lyttelton, Kidsfirst Lincoln, Kidsfirst Opawa St Martins and Kidsfirst Karoro are all certified Enviroschools.

Kidsfirst Karoro are the only Early Childhood Centre in the whole of the West Coast District to be an Enviroschool.

We are especially proud of Kidsfirst Lincoln, who under the leadership of Jeanne Williams as Head Teacher, has earned the well-deserved status of a GreenGold Enviroschool, which means that environmental sustainability is part of every decision they make.

Decisions about the sustainability of the kindergarten are mainly led by the children, who can see they are making a tangible difference to the community. Each of the five guiding principles are inextricably woven into Kidsfirst Lincoln's day-to-day activities.

Well done to Kidsfirst Lincoln, and to all of our Kidsfirst Enviroschools!

QUICK READ

Part of our commitment to the environment is being part of the Enviroschools network.

We are proud to be represented by...

Kidsfirst Opawa St Martins,
Kidsfirst Lincoln,
Kidsfirst Karoro
and Kidsfirst Lyttelton.


KIDSFIRST KINDERGARTENS ARE A NOT FOR PROFIT ASSOCIATION THAT HAS DEVELOPED AND MAINTAINED KINDERGARTENS IN CHRISTCHURCH, CANTERBURY AND ON THE WEST COAST FOR OVER 100 YEARS - AS THE PLACE LOCAL KIDS COME TO LEARN, PLAY AND HAVE FUN.