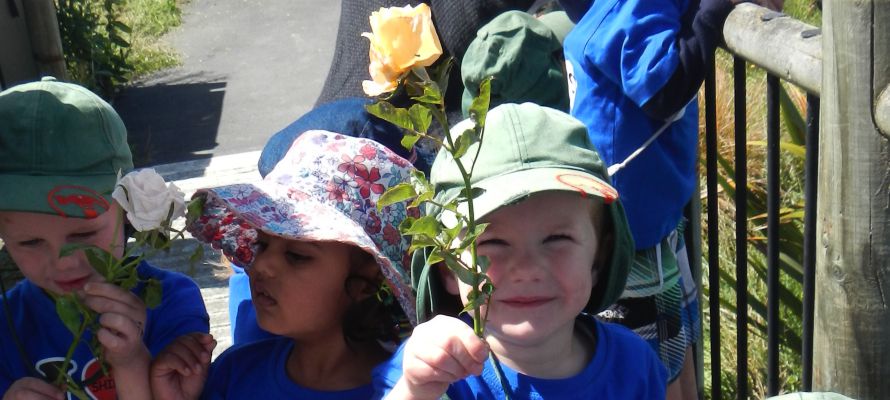 Learning about the local community.
Getting out and about to discover more about our local communities is just one of the ways our fantastic fantastic teaching teams help to weave the wider world into learning at kindergarten.

FIND OUT WHY WE'RE JUST BETTER BECAUSE...

Being part of a local kindergarten is all about creating closer connections within our communities.

Our current kindergarten-aged children are too young to have experienced the Canterbury earthquakes first hand, but those living in Christchurch are often reminded of its ongoing effects, with parts of the city's rebuild still in full swing.

Kidsfirst Shirley tamariki/children and kaiako/teachers went on a commemorative walk to their local stretch of the Avon/Ōtākaro river, to remember this historic event that significantly changed the lives of people in Canterbury, and the face of Christchurch.

Kidsfirst Shirley kaiako and tamariki visited their local Ōtākaro/Avon river for a memorial walk.

"It was a special day for us all to remember the devastating earthquake our city endured seven years ago when many buildings fell down, or were badly damaged, and people lost their lives," says Teacher, Anita Stowell.

"During our walk we showed the children patches of bare red-zoned land where homes used to be," says Anita. Children noticed cracks in the pavement and commented, "The earthquake did that."

"It was also a great opportunity to discuss how we have brand new buildings popping up and many new families arriving into our city as well."

Kia kaha - stay strong!

He aha te mea nui o te ao

What is the most important thing in the world?

He tāngata, he tāngata, he tāngata

It is the people, it is the people, it is the people!

.

Kidsfirst Kindergartens
Head Office, 43 Birmingham Drive, Middleton, Christchurch 8024
+64 3 338 1303 email: questions@kidsfirst.org.nz
Postal Details: Kidsfirst Kindergartens, PO Box 8089, Christchurch 8440
KIDSFIRST KINDERGARTENS ARE A NOT FOR PROFIT ASSOCIATION WITH OVER 70 KINDERGARTENS AND EARLY LEARNING CENTRES COVERING CHRISTCHURCH, CANTERBURY, CENTRAL OTAGO, BANKS PENINSULA AND THE WEST COAST - AND HAS DONE SO FOR OVER 100 YEARS
- AS THE PLACE LOCAL KIDS COME TO LEARN, PLAY AND HAVE FUN.