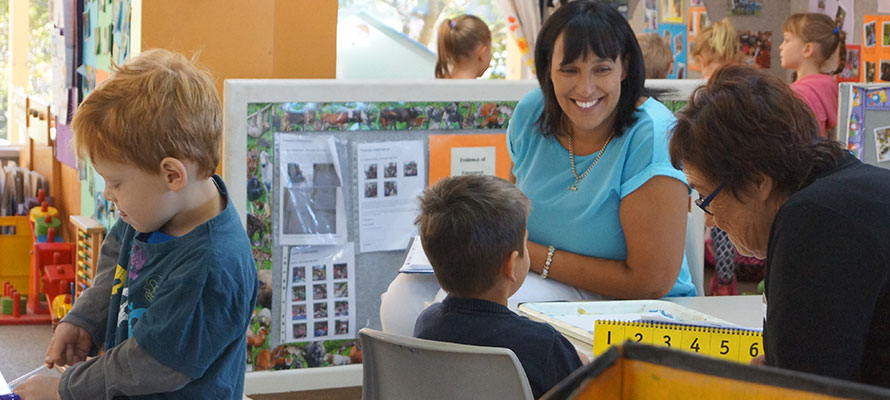 | | | |
| --- | --- | --- |
| | | Many of the things Kidsfirst has championed over the years have been adopted as good practice across early childhood education, including the role of Education Service Managers (ESMs). |
OUR TOP STORIES

NEWS FROM AROUND

CENTRAL OTAGO

Each Kidsfirst kindergarten or early learning centre has a 100% qualified and registered teaching team. The team is led by an experienced head teacher – often someone who has come up through the ranks after they have been with Kidsfirst for a number of years.

Each teaching team is also allocated an ESM, an experienced education professional (many times someone who has been a head teacher themselves), who provides advice and support for our teams in a variety of ways. ESMs have a wealth of experience and expertise, and there isn't much they haven't seen before!

Under the guidance of our Manager of Education Delivery, they offer both practical know-how and the latest in early childhood theory – the pedagogical thinking that helps to improve our quality of service and ensure the best results for the children who come to Kidsfirst Kindergartens.

The ESMs also provide strategic oversight, with reassurance of quality in curriculum delivery and performance. They help to maintain consistency across our network of kindergartens and early learning centres.

An important part of an ESMs job is to provide a connection point for sharing wisdom among all the teams with whom they work. They also make a big difference in helping teachers with their own professional development learning.

As professional development is a big focus for Kidsfirst, keeping teachers actively engaged in growing and nurturing their own careers is integral to providing quality learning outcomes. Many teachers choose to continue with further study while working for us and this is widely encouraged and celebrated.

Each of our ESMs embraces this hugely valuable role with enthusiasm and passion. They love the idea of learning, they know it is so important and worthwhile. And their contribution to what makes Kidsfirst so special should not be underestimated.

QUICK READ

Quality early childhood education doesn't happen by accident. It takes rigorous planning and processes - and a great team working at all levels throughout the association.
KIDSFIRST KINDERGARTENS ARE A NOT FOR PROFIT ASSOCIATION THAT HAS DEVELOPED AND MAINTAINED KINDERGARTENS IN CHRISTCHURCH, CANTERBURY AND ON THE WEST COAST FOR OVER 100 YEARS - AS THE PLACE LOCAL KIDS COME TO LEARN, PLAY AND HAVE FUN.