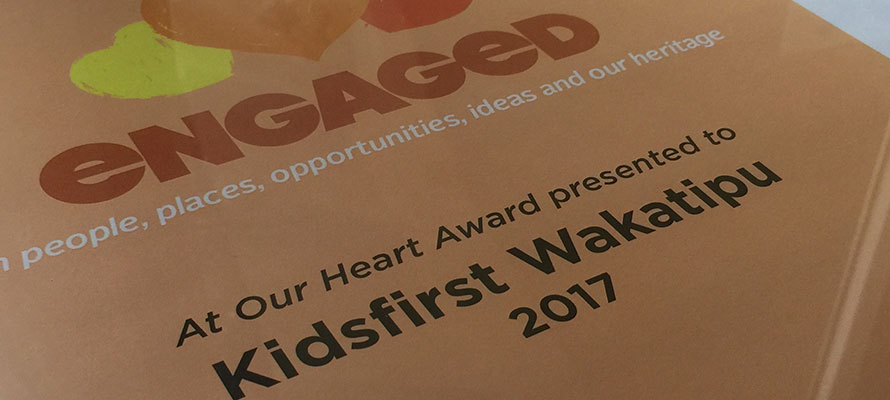 | | | |
| --- | --- | --- |
| | Kidsfirst Kindergartens At Our Heart Awards recognise the kindergartens, early learning centres and individuals who epitomise our core values... | |
SOME OF OUR TOP STORIES

Congratulations to our Engaged Certificate Winner, Kidsfirst Kindergartens Wakatipu, recognised in the 2017 At Our Heart Awards, presented at the AGM in May.

Our values are very important to us as an association and we're so proud to be able to celebrate them in this way. The value of Engaged is all about connecting with people, places, opportunities, ideas and our heritage.

The team at Kidsfirst Wakatipu are committed to enhancing their bi-cultural practice, with a focus on building the competence and capability of teachers and tamariki to use Te Reo Māori.

There has been a noticeable shift from using words, greetings and directives to using the language authentically across teaching and learning.

Teachers have engaged with place-based learning to build understanding of legend in Wakatipu and have integrated this into writing their kindergarten mihi, and their own waiata about their place.

Congratulations Kidsfirst Wakatipu!

Although we celebrate these values each year with awards and certificates, we know that tamariki, families and communities see the behaviours and commitment associated with our values every day, in so many different ways in all of our wonderful kindergartens across the network. So congratulations and keep doing what you're doing so well.


KIDSFIRST KINDERGARTENS ARE A NOT FOR PROFIT ASSOCIATION THAT HAS DEVELOPED AND MAINTAINED KINDERGARTENS IN CHRISTCHURCH, CANTERBURY AND ON THE WEST COAST FOR OVER 100 YEARS - AS THE PLACE LOCAL KIDS COME TO LEARN, PLAY AND HAVE FUN.