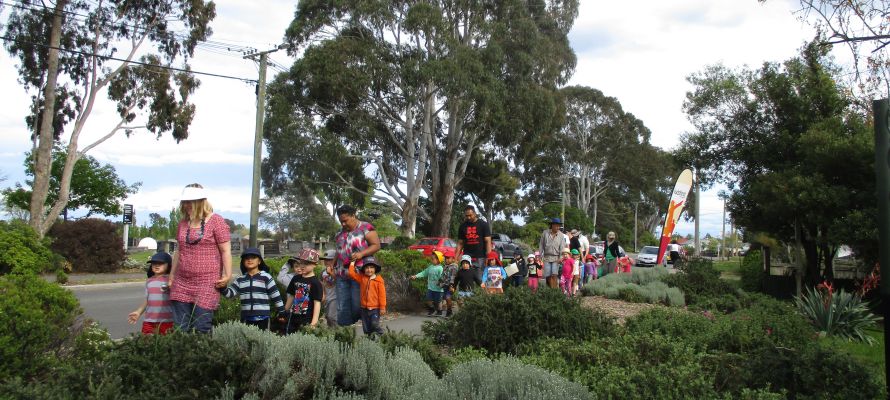 | | | |
| --- | --- | --- |
| | | In the spirit of being healthy and looking after our tinana/body with exercise, Kidsfirst Bromley kindergarten have been running Physical Fridays... |
OUR TOP STORIES

Physical Friday's may involve anything from some time spent at the local school grounds for lots of fun and exploration or a visit in the wider community - like on a recent walk to the nearby, tranquil Cypress Garden Reserve.

When Kidsfirst Bromley tamariki were asked what they might find on a scavenger hunt there, they imagined: "Sparrows, manu pango/blackbirds…or lions, tigers, rabbits and maybe even a Bigfoot!"

Teachers dotted these real and mythical creatures around the Reserve as photos on clipboards, for children to track down their suggestions and tick off their list. There were opportunities for bird spotting too, that reinforced recent learning at the kindergarten about our nga manu.

Head Teacher, Linda Roper explains, "our bird watching started at our outside lunch table close to a tree that has lots of different birds feeding from the pinecones hanging in its branches. Children are learning the breed of the manu by name like a sparrow or wax eye and also by personality, 'the starling is the bully!' they say."

At whānau time tamariki have an activity to try to guess which native bird it is from the sound it makes and this has helped tamariki strengthen their knowledge looking through the kaitiakitanga lense around local and native nga manu.

One boy at the kindergarten can now easily recognise our native tui by its tune alone, and can cleverly report, "it's got two voice boxes and a brush-like tongue."

"As well as a focus on our links with nature and our environment we are also focused heavily on Whanaungatanga and we are really seeing some wonderful connections being made with our kindergarten whānau and tamariki," says Linda.

A walk through the connecting gate to Bromley Primary School is a great way to blow off some steam at the end of the week says Linda, "we bring balls, balance bikes and hula hoops and with access to the whole school grounds there's room to move and run freely - the children just go for it."

"Lots of parents get involved too, one Dad is a league rugby player and he has the children practicing ball skills and other 'cool stuff.'

Kidsfirst Bromley will have another chance to revisit just how important getting outdoors into nature is for connection and self-regulation on their upcoming visit to the Botanical Gardens.

LEARNING GOALS

- Kaitiakitanga Using our Rangitira/leaders to model and encourage looking after our community keeping it safe and tidy.

- Looking after our Tinana (body) through exercising and being healthy in spirit/wairua.

- Whanaungatanga

Celebrating our kindergarten family and having fun together outdoors.

- Tangata Whenuatanga.

Collecting natural resources to use within our programme which links to our Self Review question around.
KIDSFIRST KINDERGARTENS ARE A NOT FOR PROFIT ASSOCIATION THAT HAS DEVELOPED AND MAINTAINED KINDERGARTENS IN CHRISTCHURCH, CANTERBURY AND ON THE WEST COAST FOR OVER 100 YEARS - AS THE PLACE LOCAL KIDS COME TO LEARN, PLAY AND HAVE FUN.