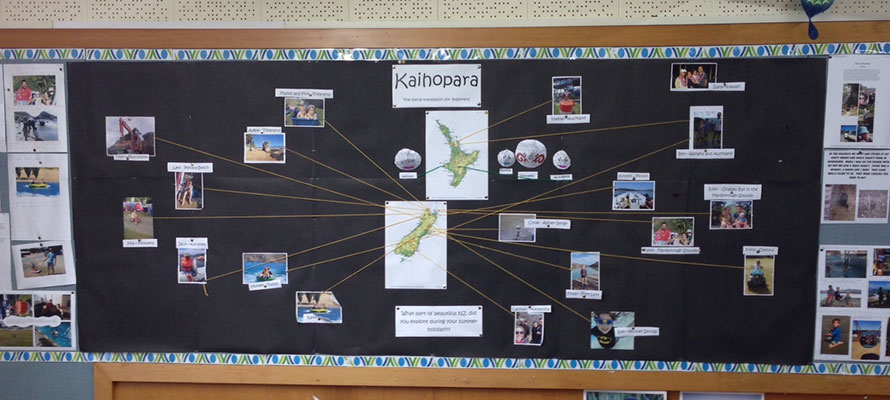 | | | |
| --- | --- | --- |
| | | Kindergarten is all about getting behind a great cause, so when the opportunity to help buy a beautiful Abel Tasman beach presented itself, one kindy just couldn't let the chance go by... |
OUR TOP STORIES

NEWS FROM AROUND

CENTRAL OTAGO

A Kaihopara (explorers) Board at Kidsfirst Costwold Ave displayed many of the holiday snaps that the tamariki had brought in after their summer holiday - as they enjoyed sharing stories about their holiday experiences and adventures.

There was real interest among the children around different holiday destinations and what makes New Zealand beautiful and unique.

"As we talked about and reflected on these memories it was apparent that the classic kiwi holiday is still alive - spending time together camping, enjoying the sunshine and splashing in our beautiful seas," says Teacher, Adele Puddy.

With this in mind, the kindergarten decided that they would really like to help Duane Major and Adam Gardner's campaign to buy a slice of beach in the Abel Tasman National Park.

"We felt like we needed to help and involve the children in something that is for their future," says Adele.

In this way, the general consensus was that the beach could be enjoyed by all New Zealanders, instead of going into private ownership with restrictions on access.

"New Zealand is so beautiful and we thought how amazing would it be if, as New Zealanders, we could all band together and purchase this for future generations to enjoy," adds Adele.

"Where else in the world has something like this happened?"

The children were hugely enthusiastic about helping to buy a beach of their own. Adele explained that the only problem was finding enough money to buy it…as it would cost at least 2 million dollars.

Many had already donated generously to the campaign - Stuff and Spark had both donated $20,000.00 - but with just a short time to go, they still needed around $600,000.00.

Knowing that every little bit counts children started brainstorming ways to make money.

Together they created a plan. As they were raising money to buy a beach, the children thought it would be a great idea to fundraise with a beach/ocean themed dress-up 'summer fun' day.

For a gold coin donation children could dress up for the day. They came decked out in bright summer clothes, wetsuits, swimwear, mermaid and shark costumes, pui pui's, sunglasses, swandri's and gumboots.

There was also an array of delicious baked goods on sale - which had all been donated - including a classic kiwiana favourite, lollycake.

Adele explains that, "the families all got behind us, supporting the day by donating ingredients, dressing up their children, buying cake and donating big".

They raised a total of $191.80!

The Gift Abel Tasman boys, Duane and Adam applauded Kidsfirst Cotswold Ave's efforts with a shout-out on their Facebook page.

"It's a fantastic gift for our children and for future generations to enjoy. A beautiful beach of their own, somewhere that fun holiday memories can continue to be made," says Adele.

"Our children are still talking about this experience and are all really keen to visit the beach one day."

Good on you Kidsfirst Cotswold Ave - helping to keep Aotearoa family holiday adventures alive.

QUICK READ

Knowing that every little bit counts, Kidsfirst Cotswold Ave fundraised to help buy a slice of paradise in the Abel Tasman - for all to enjoy.
KIDSFIRST KINDERGARTENS ARE A NOT FOR PROFIT ASSOCIATION THAT HAS DEVELOPED AND MAINTAINED KINDERGARTENS IN CHRISTCHURCH, CANTERBURY AND ON THE WEST COAST FOR OVER 100 YEARS - AS THE PLACE LOCAL KIDS COME TO LEARN, PLAY AND HAVE FUN.