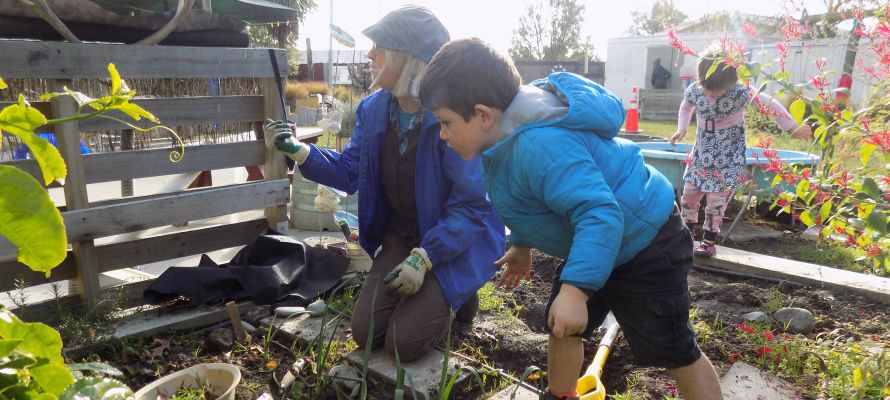 | | | |
| --- | --- | --- |
| | It's not just children who grow at kindergarten. A lot of plants do too. Both in our gardens and sometimes in a nearby community garden - producing bountiful harvests with plenty to share... | |
SOME OF OUR TOP STORIES

In the early part of the century when our kindergartens were first being established our gardens were often filled with primroses and pretty flowers.

Now we tend to landscape with native planting and have vegetable boxes producing crops like lettuce, strawberries or pumpkins as well as planting apple, pear or feijoa trees to harvest.

Growing and caring for a garden is one of the ways Kidsfirst Kindergartens teach children about environmental sustainability.

Children love time outside tending to plants with a trusty trowel and watering can. Under their curious, watchful eyes our gardens flourish. At harvest time children can reap - and eat - the healthy rewards of all their hard work.

"We grow all kinds of different seasonal fruits and vegetables," says Kidsfirst McKenzie Teacher, Jane Hynes. "We also belong to the Riccarton neighbourhood support group and our tamariki are excited to have been offered their very own patch at their community garden for some spring-planting."

During Matariki (Māori New Year) celebrations, Kidsfirst Queenspark tamariki pitched in to help clean up their winter garden in preparation for the spring.

"We also built two brand new raised garden beds and now have a special tank to collect rain to water our plants," says Head Teacher, Jo Stewart.

"The plastic bottle tops (donated by families) placed over the top of our new little plantings was a suggestion from one of our parents to stop the bugs from eating them."

Like many kindergartens across our network, Kidsfirst Avonhead has an abundant bounty of seasonal fruit and vegetables from their kindergarten garden.

Teacher, Jane Hopkins-Dorgan says, "We cut up bite size pieces of fresh fruit and vegetables to use on our morning and afternoon tea snack platters and offer any excess harvest to our kindergarten community."

Learning to look after a kindergarten garden and reaping the rewards helps to reinforce healthy heart choices too.

"We grow all sorts of healthy goodies," says Kidsfirst Hoon Hay Teacher, Cathy Fraser, on a guided tour of their lovely garden. "We have orange, apple and feijoa trees, a grape vine, raspberry and blackcurrant bushes."

In summer the strawberry patch overflows from its boxed parameters and pops with sun-ripened, juicy red berries – delicious! Also growing is cabbage, silver beet, tomatoes and crinkly kale.

"We try to use as much fresh food from the garden as we can and any extra harvest we give to parents to take home," says Cathy. "It's all about encouraging good healthy heart food choices."

Tamariki at Kidsfirst Broomfield LOVE it when relieving Teacher, Yvonne Dixon comes to visit - as they know it means gardening time.

"Yvonne very kindly offers her free time to support and inspire our children to get involved with gardening at our kindergarten," says Head Teacher, Victoria Rodger.

"The children have built a lovely relationship with Yvonne and their moments with her are precious."

Teacher, Lucy Robins at Central Otago's Kidsfirst Hawea says they love the community experience their kindergarten garden provides too.

"We have a wonderful edible garden that serves up lots of fresh veges and, come late summer, crisp sun-ripened apples from our tree," says Lucy.

"Any surplus is popped in a basket to share with families."

While out of their kindergarten building for renovations, the team at Kidsfirst Ilam decided to bring a little bit of their beautiful garden with them, to their temporary location at Kendal School Hall.

"When we moved we brought along lots of our colourful flower pots to brighten up the new place and remind us of home," says Head Teacher, Christine Putt "Also, we're thinking of planting a fragrant garden while we're here to leave for the next community group."

Kidsfirst Ngaire Larcombe have brightened up their kindergarten garden too - with colourful bunting, hoops and ribbons that tamariki love to watch flutter in the wind.

Around our network of we're so very proud of our beautiful, bountiful community of kindergarten gardens.
Information including that about fees, services and promotional activities were correct at the date of publication of news stories but may since have changed. Please check with us to ensure information is current.