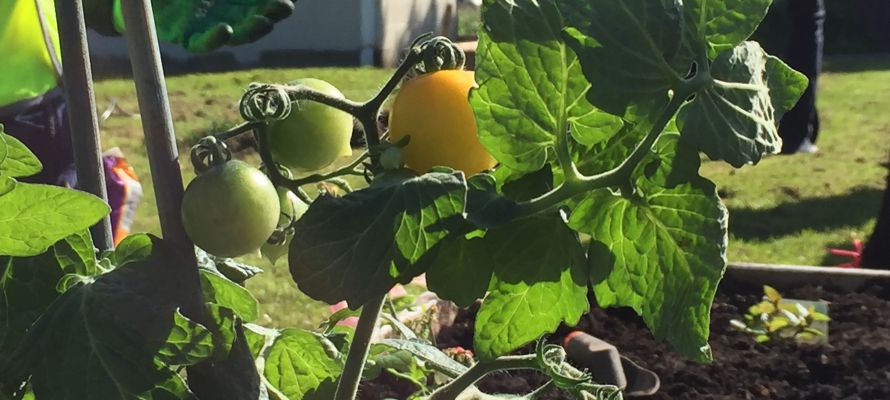 | | | |
| --- | --- | --- |
| | Kidsfirst MacFarlane Park were excited to be offered their very own kindergarten patch at a local community garden, to grow and nurture new living things... | |
SOME OF OUR TOP STORIES

Initiated by the Shirley Community Trust the idea is the garden will be set up "by the community - for the community." Neighbouring residents and some local schools are also involved but it will ultimately be kindergarten children's responsibility to care for their area.

"It's a great project and we're delighted to be asked to be a part of it," says Kidsfirst MacFarlane Park Teacher, Helen O'Connell. "The community landscape design includes fruit planter boxes, a central seating area and a hedged boundary of raspberry plants. Everyone's got on board to support us."

Neighbour Terry (a local retired carpenter) built two sturdy, long planter boxes so children can get stuck into their green-thumbed work with plenty of space alongside each other.

"A supportive parents helped us teachers to paint the planter boxes with child-oriented, colourful designs of fish, handprints and flowers to really brighten up our section of the park," says Helen.

A parent-made sign will read "Kidsfirst MacFarlane Park" and a bright silhouette will let every visitor know who's taking care of this spot. Another parent donated $1000 worth of fruit plants from their business.

Local Bunnings Warehouse Shirley also donated fruit and vegetable seedlings and came along on their recent planting day to assist and help educate children about gardening.

"We've planted pumpkin, bean and peas so far," says Helen. "Anything we eventually harvest we'll use in our kindergarten baking and any extras we'll gift to our kindergarten families."

"It will be an ongoing kindergarten project with weekly visits by groups of tamariki for maintenance and discovery, to pick any ripe fruit or vegetables and to pull out any rogue weeds."

Each week a different child will be the official photographer and take pictures to document their growing garden in a learning journal.

Kidsfirst Kindergartens
Head Office, 43 Birmingham Drive, Middleton, Christchurch 8024
+64 3 338 1303email: questions@kidsfirst.org.nz
Postal Details: Kidsfirst Kindergartens, PO Box 8089, Christchurch 8440
KIDSFIRST KINDERGARTENS ARE A NOT FOR PROFIT ASSOCIATION WITH OVER 70 KINDERGARTENS AND EARLY LEARNING CENTRES COVERING CHRISTCHURCH, CANTERBURY, CENTRAL OTAGO, BANKS PENINSULA AND THE WEST COAST - AND HAS DONE SO FOR OVER 100 YEARS
- AS THE PLACE LOCAL KIDS COME TO LEARN, PLAY AND HAVE FUN.