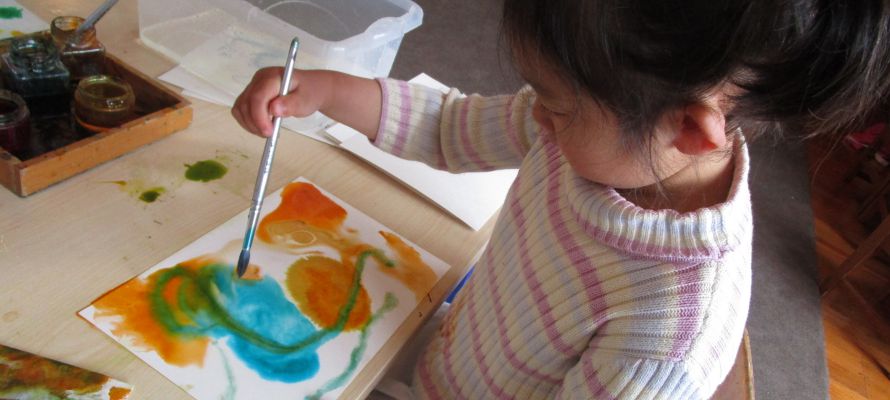 | | | |
| --- | --- | --- |
| | Kidsfirst Mount Pleasant love their inspiring community connections 'up the hill' - and sometimes even 'in the clouds' - that provide a wide range of experiences and resources to enhance children's learning... | |
SOME OF OUR TOP STORIES

Kidsfirst Mount Pleasant welcomes the 'Mah Jong' ladies to their shared facility hall every Wednesday, to play their traditional Chinese Board game. Also, they have regular visits from the Mount Pleasant Primary School Kapa Haka group.

"We take regular walks to Mount Pleasant School to help our children stay connected with and practice the 'next big step' in their life journey - going to school," says Head Teacher, Angie Dalley.

"It's also a great way for us to be visible in our community and have the opportunity to say gidday to our neighbours, that (later) will include The Bays area too."

Tamariki recently joined the school in their yearly art exhibition, held at the new Community Centre in McCormacks Bay Road (next to the kindergarten's future site - Kidsfirst The Bays).

"This has become a huge event for our community and we are so impressed with the range of artworks from our tamariki, the school and the many other life-artists that contribute to it," says Angie.

"We have such a warm community spirit here and a great connection with people - young and elderly alike," says Teacher, Lisa Fleming.

The kindergarten recently invited the Mah Jong ladies for lunch. Parents pitched in to help set up and children picked flowers for the tables. Tamariki shared their musical skills with a concert and one of the ladies treated them to a recital on the church organ.

"It was a fantastic example of the older members of the community sharing their gifts and talents with the younger ones," says Angie. "And lovely to see caring/manaakitanga in action as our children continue to learn ways they can 'be of service' to other members of the community."

The kindergarten have established links with the Mount Pleasant Kapa Haka group. "The acoustics in our hall are fantastic and they raised the roof with their beautiful waiata and stirring Haka," says Angie.

"Our children replied in kind with waiata and this was a wonderful example of two communities blending as one, in song and Tikanga Māori."

"This visit (with more planned) further strengthened our commitment to biculturalism and our children were inspired to learn more waiata after their visit."

In other community news at Kidsfirst Mount Pleasant, everyone has taken an active interest in learning about their lovely kindergarten animals.

"Our community of creatures is very important to us," says Angie. "It includes hens, worms, birds, fish, and sometimes visiting pets."

Through being involved with the animal community children have opportunities to learn more about the natural world and how to care for the planet in a hands-on and meaningful way. During term breaks parents and children take turns to care for the animals.

They got to meet even more of their neighbours while trying to find a runaway/flyaway hen who was enjoying the freedom and vegetation of the hills a little too much!

Kidsfirst Kindergartens
Head Office, 43 Birmingham Drive, Middleton, Christchurch 8024
+64 3 338 1303 email: questions@kidsfirst.org.nz
Postal Details: Kidsfirst Kindergartens, PO Box 8089, Christchurch 8440
KIDSFIRST KINDERGARTENS ARE A NOT FOR PROFIT ASSOCIATION WITH OVER 70 KINDERGARTENS AND EARLY LEARNING CENTRES COVERING CHRISTCHURCH, CANTERBURY, CENTRAL OTAGO, BANKS PENINSULA AND THE WEST COAST - AND HAS DONE SO FOR OVER 100 YEARS
- AS THE PLACE LOCAL KIDS COME TO LEARN, PLAY AND HAVE FUN.