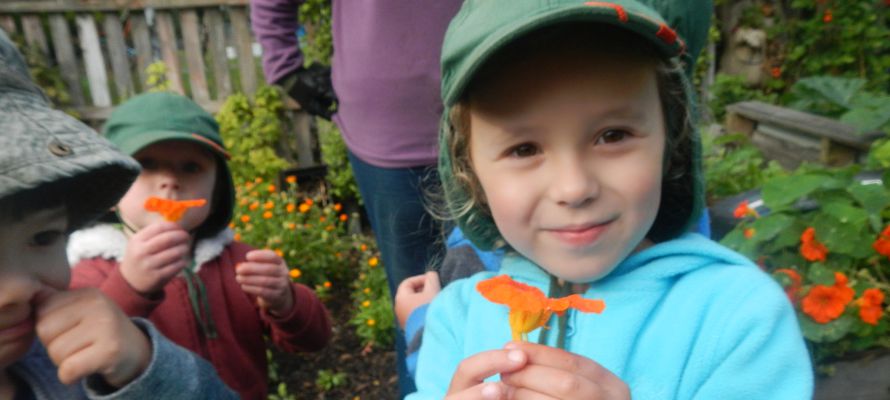 | | | |
| --- | --- | --- |
| | Helping out, being supportive and celebrating what's great about our communities is what it's all about at kindergarten. | |
SOME OF OUR TOP STORIES

We work closely with parents, whānau and our wider community to broaden childrens' horizons and expand neighbourhood connections. There's so much to be learned from involving lots of different people with fresh perspectives, new skills and positive influences along our way.

Teaming up with local schools to showcase children's art, take part in dance, activities or sports are some of the ways we try to inspire children to learn and share in the community.

We're always looking out for new opportunities to help out in our communities too, whether it's tidying up litter from the neighbouring park or beach or joining in with a Healthy Hearts challenge.

We understand the more we can involve children in their surrounding environment with local people, the more they'll learn and grow into understanding young adults.

On the edge of Christchurch Easts' River Road Red Zone, and walking distance from Kidsfirst Shirley kindergarten, is the Richmond Community Garden.

Here lovingly tended, fresh sun-ripened vegetables (and community spirit) abound. Local kindergartens are welcome to visit, to lend a hand and learn about the joys and rewards of growing a garden.

The Richmond Community Garden group are passionate about this project, and believe that, 'a well-established community garden not only helps locals in need but gives volunteers a sense of belonging and purpose and breathes new life into a community on the edge of the red zone.'

"Exploration of our neighbourhood to gain an understanding of the red zones and how tamariki could help contribute was the inspiration for this kindergarten group community garden visit," says Teacher, Rebecca Dulieu.

"As we learn about and explore our local community, we encourage our Kidsfirst Shirley children to contribute and feel proud to be part of a collective of helpers that support wonderful initiatives like this," says Rebecca.

Amongst the clangour and hum of machinery (rebuilding parts of the neighbourhood after the earthquakes), one little green-thumbed learner said, "if we plant all this it can grow big and cover all the dirt and bits of crashed concrete."

Proud to 'inspire a love of books in children so they become adults who inspire a love of reading' is the The Alan Duff Charitable Foundation.

Many of our kindergartens and centres are a part of this fantastic community initiative - better known as Duffy Books in Homes - that sees free books provided three times a year, to over 100,000 New Zealand children, to take home and enjoy.

The aim of the programme is simple - to break the cycle of booklessness. "Kids who can't read become adults who can't communicate and that's a serious disadvantage in a world that operates on the written word." – Duffy website.

Children's favourite books inspired fun dress up days for Bookweek at both Kidsfirst Richmond and Kidsfirst Hornby, and as part of the Duffy books in homes initiative, tamariki each unwrapped a surprise book to take home and enjoy.

It was a thumbs up from children at Kidsfirst Aranui, who enjoyed some nutritious extra lunch options as part of Christchurch chef Ben Atkinson's buy one - gift two, 'Fill their lunchboxes' community initiative.

Order a fresh, wholesome lunch delivered to your home or workplace online at Fill their lunchboxes (or from their Facebook page) and they'll distribute lunches (a healthy sandwhich, piece of fruit and a small cake or biscuit) on to their 12 partner schools.

"We would like to thank Ben and the team for this amazing service - there is great excitement when the 'special lunches,' arrive with one of the friendly delivery volunteers," says Head Teacher, Erna Delaney.

What a great example of manaakitanga - showing respect, generosity and care for each other and the wider community.

Helping each other out, while having fun and creating new friendships within our communities - is what local kindergarten is all about. Thank you to all of our friendly, generous, warm-hearted communities around the network.

Kidsfirst Kindergartens
Head Office, 43 Birmingham Drive, Middleton, Christchurch 8024
+64 3 338 1303 email: questions@kidsfirst.org.nz
Postal Details: Kidsfirst Kindergartens, PO Box 8089, Christchurch 8440
KIDSFIRST KINDERGARTENS ARE A NOT FOR PROFIT ASSOCIATION WITH OVER 70 KINDERGARTENS AND EARLY LEARNING CENTRES COVERING CHRISTCHURCH, CANTERBURY, CENTRAL OTAGO, BANKS PENINSULA AND THE WEST COAST - AND HAS DONE SO FOR OVER 100 YEARS
- AS THE PLACE LOCAL KIDS COME TO LEARN, PLAY AND HAVE FUN.