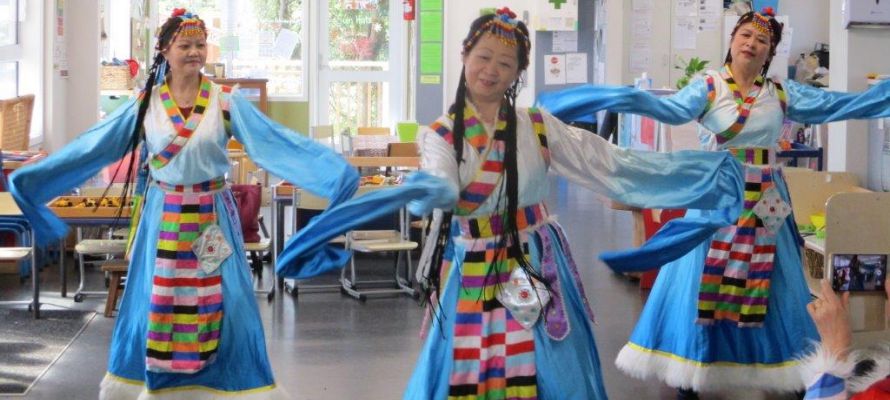 | | | |
| --- | --- | --- |
| | Learning about different cultural traditions gives tamariki a wonderful opportunity to develop a deeper understanding of the world around them, learn about cultures other than their own, and foster Ako as we all learn together. | |
SOME OF OUR TOP STORIES

Grandmother to Emily, Yu Ying (and friends) enthralled at Kidsfirst Wigram with a traditional Chinese story told through music and dance...

Teacher, Cindy Dean was fascinated to see their 'Chinese Love Art Troupe' at a cultural festival in Lincoln during the holidays and invited Yu Ying to share this experience with the children at kindergarten.

Their exquisite dress and rhythmic dance moves, "created a relaxed atmosphere that captured a real sense of wonderment for our children and teachers alike," says Cindy.

Traditional Chinese dance, with its vibrant costumes, expressive facial movements and make-up, ritualised gestures and stylised steps, celebrates a rich history and tells stories from China's past and it's people.

"Emily was very proud to share her cultural heritage with us here at Kidsfirst Wigram," says Cindy. "She bravely stood up to present the dance troupe with a small thank you gift, for sharing their time and knowledge."

In conversation after the dance modern technology paid a vital role in supporting some of the challenges with the language barrier. They used 'Google translate' with Yu Ying and her friends speaking Mandarin into the phone, then relayed back as a text message in English.

Value and build on the knowledge and experiences that children bring with them to the setting…making links to children's everyday experiences and to special events celebrated by families, whānau, and local and cultural communities.

– Te Whāriki 2017.

Kidsfirst Kindergartens
Head Office, 43 Birmingham Drive, Middleton, Christchurch 8024
+64 3 338 1303 email: questions@kidsfirst.org.nz
Postal Details: Kidsfirst Kindergartens, PO Box 8089, Christchurch 8440
KIDSFIRST KINDERGARTENS ARE A NOT FOR PROFIT ASSOCIATION WITH OVER 70 KINDERGARTENS AND EARLY LEARNING CENTRES COVERING CHRISTCHURCH, CANTERBURY, CENTRAL OTAGO, BANKS PENINSULA AND THE WEST COAST - AND HAS DONE SO FOR OVER 100 YEARS
- AS THE PLACE LOCAL KIDS COME TO LEARN, PLAY AND HAVE FUN.