Here's to women of strength & determination.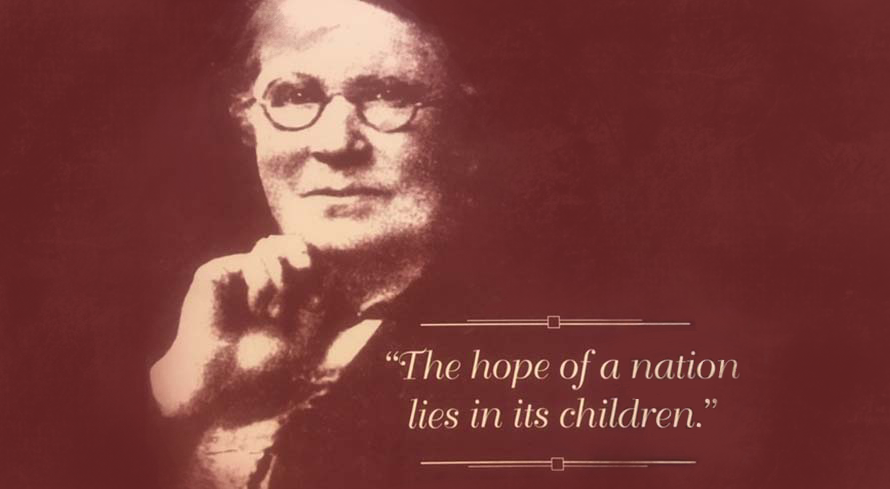 As we celebrate International Women's Day, on Friday 8th March, we also celebrate the strong and determined women who formed our Kindergarten Association in the drive to provide quality early childhood education for generations of kiwi kids. Such women have been the lifeblood of the kindergarten community in New Zealand for over 100 years, and laid the foundations of what we do today.
F.A. Peppler was our Association's Acting President in 1920/21 who said "The hope of a nation lies in its children." While she had a vision looking forward, we'd also like to look back and say much of our past owes a vote of thanks to these exceptional women.
It all began for us with one remarkable woman.
In 1911, Mrs T.E Taylor, the mayoress of Christchurch, established the Christchurch Creche and Kindergarten Association, and in doing so became a force to be reckoned with. She took to the challenge of establishing kindergartens with gusto.
One of her first moves was appearing at Government House in Wellington - a signed initiative in hand asking for all kindergartens to only employ trained teachers. Unfortunately, this initiative was foiled by other associations from around the country, which were concerned about their own lack of resources, training and finances.
However, Mrs Taylor's determination did not waver. Joined by Miss Helena Hull, the pair headed the student teaching programme at Kidsfirst Sunbeam, where young women came in and learnt how to teach young children; a first of its kind in New Zealand. They were among the most active in training because they believed that kindergarten teaching was a serious profession, a view not exactly endorsed by the rest of society. (Unsurprisingly, Friedrich Froebel, who has been called the 'father of kindergarten' advocated strongly for the role of women in early childhood education). Despite the dismissive attitude of the time, they forged ahead and their hard work was duly rewarded.
In 1913, the Government introduced a Kindergarten Diploma as a recognised qualification, and from then on Kidsfirst vowed to keep 100% qualified teachers - one of our points of difference that has been a source of pride for many decades. Mrs. Taylor and Miss Hull had successfully pursued their dream of helping to give children a quality education, delivered by trained teachers, before they started school. This 'dream' carried on well into the future, with hundreds of young women training and becoming qualified under this system and going on to have rewarding careers.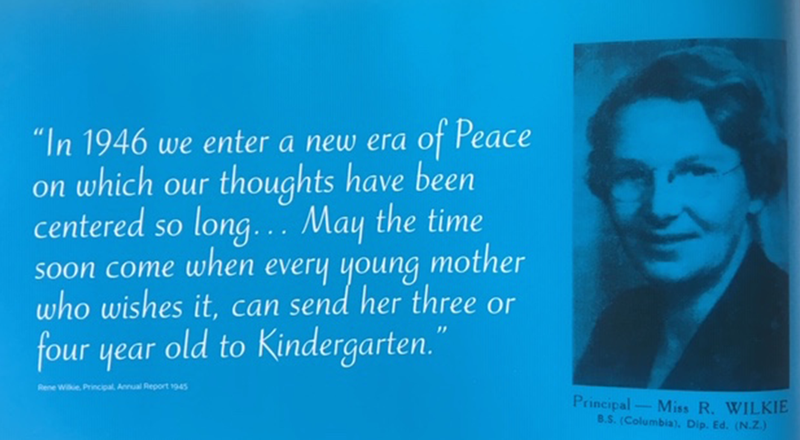 As president Rene Wilkie stated in 1945:
"The spirit of kindergarten never changes. It is the same spirit which inspired that small band of women, nearly forty years ago, to lay the foundation of this association, which has benefited thousands of children throughout the years, as it is benefiting the children of today."
Unfortunately, even though this was applauded within the association, the teachers still faced the social obstacles of being a woman and teaching in childhood education. Although they may have had a government certificate, there was still not a large grasp on how hard it is to work in early childhood education and an underappreciation of the role. "In the old days," says former President, Lynda Boyd, "some of the people who were leaders in early childhood were talking about kindergarten as if it was a nice genteel profession for lovely young ladies."
Sandy Bain, a life member of our Association, adds, "it was something that nice girls did but it wasn't supposed to be a great challenge - it was a great challenge intellectually, but that wasn't sort of understood from the outside." Often this challenge took the form of being able to interact with children in such a way that they felt like they were being listened to, so that they felt comfortable in a teacher's presence and were consequentially open to learning.
As former President Eva Millen said: "The biggest challenge was appreciating the children's need to learn through experimenting and through talking, questioning and reaching conclusions. A skilled teacher can guide children so that their curiosity and interest are constantly satisfied and rekindled."
There have been generations of powerful, intelligent and motivated women who have helped our Association become what it is today. And now, it's as important as ever.
We, our tamariki, parents and whānau, teachers and other colleagues appreciate everything that's been contributed over the years by a great number of women.
In the 1930's teachers would paint the kindergarten fences and walls.

"The hope of a nation lies in its children" was a notable quote by 1920 kindergarten president Mrs F.A Peppler.

Every single Kidsfirst president has been a woman.
Read more stories...

Nau mai, Tauti mai, Haere mai
Information including that about fees, services and promotional activities were correct at the date of publication of news stories but may since have changed. Please check with us to ensure information is current.